Samsung patents augmented reality interface for its Google Glass rival
16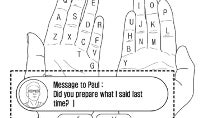 Samsung received a patent for an augmented reality keyboard, which might be used in
Sammy's rumored smart glasses
(
Samsung Glass
?). The images, which are accompanying the patent, reveal an augmented reality keyboard, which is projected on the fingers of the user.
Wait, what? Yes, that's right, the Korean company wants to turn your palm into a virtual keypad. Apparently, your index finger will be designated for the ABC, DEF letters and some punctuation marks. The user's middle finger will sport GHI, JKL, and MNO, while PQRS, TUV, and WXYZ will be appointed to the ring finger. The lowest augmented reality row is left for the little finger. Similar to the classic phone keypads, the lowest buttons allow the user to control the case of the letters, input additional punctuation marks, and add an interval. A QWERTY version of this virtual keypad, which utilizes both hands of the user, is also revealed.
Your thumb will be the main input device. However, the patent states that the users may use a "pen, stylus, and stick as the key input means ". In addition, the implemented gesture control allows the user to switch between the different languages of the keyboard and the numeric keypad.
But how does Samsung intend to carry out this innovative user interface? In accordance to the patent, a camera will monitor your hands and track the gestures you make with your fingers. Other input methods, such as touchscreen, virtual keyboard, and voice input have been left out, because they "require large mounting areas, and also the virtual keyboard is too expensive to be implemented, and the speech recognition rate in the speech recognition-based input device contain many errors during operation".
However, this user interface might not find its way to Samsung's smart glasses and remain a pure concept. Still, we are not even sure if the South Korean manufacturer will even release such a wearable gadget.
source:
USPTO
via
SamMobile