Samsung might have backtracked on a controversial recent policy
7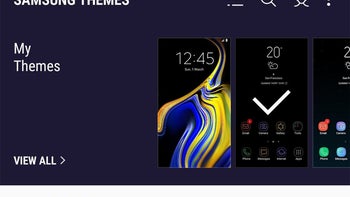 More than a month ago
, Samsung fans using the Galaxy Theme store were greeted with a rather alarming and somewhat disappointing message, informing them that once their devices receives the Android Pie update, they will only be able to use the free themes for up to fourteen days. The reason behind this change was cited as being Samsung's desire to reimburse theme developers for their hard work by urging users to buy similar-looking premium themes.
As
SamMobile
is speculating, Samsung might be backtracking on this controversial policy as all traces of the message notice are now missing from the Samsung Theme platform and store. Additionally, when users apply a free theme, they are no longer informed of the future 14-day trial period. The only trials that persists are the regular 10-minute ones for paid themes.
While it's easy to see how this could be viewed as Sasmung backtracking on such a controversial policy, it should be heavily noted that we are all speculating here. For all there is to know, the policy could go into effect once large swaths of Samsung devices start receiving Android Pie sometime next year. Hopefully, Samsung will find another way to promote theme designers' hard work instead of penalizing end users.