Starting with Android Pie, Samsung will limit how long you can use free Galaxy themes
37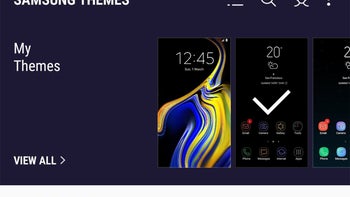 Samsung is enforcing a new policy for its own Theme Store that will potentially anger lots and lots of Galaxy users, as they will be able to enjoy any given free theme for fourteen days only.
After this period expires, the Galaxy device will automatically revert to the default theme. Right before the device's theme reverts to the stock one, users will receive a couple of notifications informing them one day and 10 minutes before the pending change takes effect. Alongside those notifications, Samsung will also highlight similar themes that might strike the user's fancy, though it's uncertain if the suggested ones will be free or paid ones.
The policy change will arrive alongside the Android Pie update for the respective device.
Samsung says that this need for this change is due to the company's desire to reimburse the talented theme designers for their hard work, and that's a mighty valiant reason. However, the exact change that Samsung is undertaking could be rather polarizing - the vast majority of themes in the store are free ones. Looking at the top charts, they are unsurprisingly dominated by the free themes. Only time will show if this change will force users to change their usage habits.
For now, the only upside is that Samsung's software updates take their sweet time to hit the company's wares, so you will have a couple more months to enjoy your free dark themes.