Samsung may equip the Galaxy S7 with a top-shelf ESS audio chip
59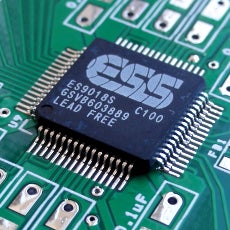 The
Galaxy S7
is shaping up to be a monster of a handset, if all the recent tips and leaks are to be believed. The reason we are getting so much info that early in the game is that Samsung's next flagship could be
announced as soon as January
, as the company has reportedly shortened the development cycle through some new project management techniques.
We already heard that the Galaxy S7 may come with a
magnesium frame and glass front and back
, which would be a design close to the current iteration. Three processor versions - Exynos 8890, 7422, and Snapdragon 820 - are also
bandied about
, depending on the region, as is a
20 MP ISOCELL camera
, and a USB Type-C connector. All pretty believable specs for 2016, too. Where things get somewhat murky are the rumored premium versions and subversions, as both 5.2" and 5.7" screens have been tipped, up to 4K resolutions, and a curved screen is thrown into the mix from the rumor mill for a good measure.
The latest on the Galaxy S7 now, is that the phone will come equipped with a top-shelf digital-to-analog converter (DAC), hinting that Samsung might place a bigger emphasize on audio and music with the handset. The DAC in question is said to be one other than the ESS SABRE 9018AQ2M - one of the most potent audio chips for mobile applications, while the brand is found in some "Hi-fi" phones from makers such as Meizu or Vivo.
Samsung is no stranger to high quality audio chips in its phones, as it's been using Wolfson DACs for a while now, so it's not clear what real difference an ESS-equipped Galaxy S7 would make in the audio capabilities of its phones. Perhaps the rumors that it might
partner with Jay-Z's Tidal music service
, which prides itself in streaming lossless high-fidelity tunes, may have some merit, after all. For those interested, check out the SABRE 9018AQ2M specs below.