Samsung Galaxy S7 latest: Three versions with three different processors
36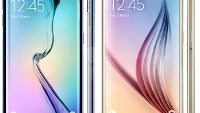 It's been just a few weeks since Samsung officially announced the all-new
Galaxy S6 edge+
and
Note5
and already, we're looking ahead to what's next with the Galaxy S7. With the company apparently
on the up
financially after a period of downturn, the next flagship would seem an appropriate moment to take the mobile market by storm. From what we've heard so far, there's reason to be excited, with a
magnesium alloy unibody
design just one of the many treats found in the melting pot of rumors. Now, we're hearing that there may be three different variants of the Galaxy S7; two running separate versions of Sammy's Exynos chips, and a further edition rocking the Qualcomm Snapdragon 820.
Samsung, as LG, has done well to avoid Qualcomm's Snapdragon 810 in its most popular phones. Plagued by overheating controversies, the chip has damaged the reputation both of its maker and many top-end smartphones powered by it. There's no reason to suggest that the Snapdragon 820 will follow suit, though, and from the information shared by
SamMobile
, Samsung will sell the SD 820 variant of the S7 in China and the United States.
Only yesterday, we caught wind of the
Exynos 8890
-- also known as a the Exynos M1 -- clocking some mightily impressive scores in benchmark testing. Per this new report, the 8890 will be reserved for those in some European markets, Japan, and Samsung's native South Korea.
Meanwhile the Exynos 7422, which once
seemed certain
to be the workhorse of the
Galaxy Note5
, could power the Indian version of the Galaxy S7.
Still very much at the speculation phase, key details of the Galaxy S7 remain at a premium. There have been reports that
curved and flat editions
may be on the cards once more, while the much-loved microSD slot could
enjoy a renaissance
. Moreover, it's been put forth that the handset might
launch this side of the new year
, as Samsung looks to beat rivals to the draw. Given the scarcity of solid information and the fact that we're already well into October, though, the latter seems fairly unlikely.
Usually the star of the show around the time of Mobile World Congress, the Galaxy S7 will almost certainly reach consumers by the end of Q1 2016. With such heavyweight processing power said to be in the offing, here's hoping that the rest of the device is just as impressive.
Thoughts?