Samsung looking to push "Premium Suite" update to Samsung GALAXY Note instead of Android 4.0?
44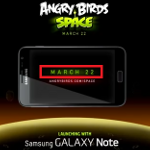 Sometimes it is hard to know what a manufacturer has in mind unless it is said clearly and completely. Other times, no matter what is said, it is best not to believe it until you see it. Back in December, Samsung said that instead of
delivering Android 4.0 to the Samsung Galaxy S and the Samsung Galaxy Tab
, it would
update both devices with a "value pack"
that would bring better multitasking, faster web browsing, improvements to the camera and new widgets to the pair. The Korean based manufacturer
86'd the "value pack"
in January, and those two units might be stuck with Gingerbread forever.
absolutely no word about Ice Cream Sandwich
. So if you are asking us if Samsung GALAXY Note owners should be a little concerned about receiving the latest Android build, for the moment we would say "
Yes
". That is not to say that the update will never come, it just seems a little strange that such a high exposure video would promote this "Premium Suite" instead of Android 4.0.
Besides the end of the video, the beginning of it hints at March 22nd as being the date of some sort of update for the "phablet". It could simply be the special version of the Angry Birds Space game that Rovio has allegedly prepared for the Samsung GALAXY Note as an exclusive for the device. It could include an extra bird or two or more levels. One thing we can say is that whatever download comes to that
5.3
inch screen, it
probably won't be Android 4.0
.
source:
SlashGear