Samsung grabs the early lead in Windows Phone 7 market share
1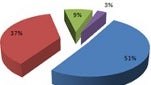 Just before Microsoft went back in the shop to re-tool its operating system, HTC was the leading producer of handsets powered by the Windows Mobile OS. Now that the gang in Redmond have released Windows Phone 7, the balance of power has shifted in the smartphone market.
We have
reported
how Samsung has decided to make its presence in the Windows Phone 7 market felt in a major way. The Korean based firm expects to ship a majority of its phones this year with Windows Phone 7 under the hood as opposed to the Android OS. And while many were surprised by how committed Samsung has become to Windows, especially following the success it has had with smartphones running Google's open source OS, a simple survey of 1500 current Windows Phone 7 users found that 51% own a Samsung branded model. A distant second with a 37% slice of the pie is HTC. LG and Dell finished 3rd and 4th with 9% and 3% of the market, respectively.
Samsung appears to have a couple of hit models on it's hands with the Samsung Omnia 7 and the Samsung Focus. HTC has not had the level of success with the HTC Surround that it had expected. The phone with the landscape sliding speaker has captured just 2% of the Windows Phone 7 market. Meanwhile, HTC has been hampered by the new platforms prohibition on both custom-ROMs from community sites like Xda-Developers.com and proprietary UI from the manufacturer like HTC Sense. So while Microsoft has seemingly put some road blocks on HTC's path, for Samsung it has been smooth sailing thus far.
source:
WMPoweruser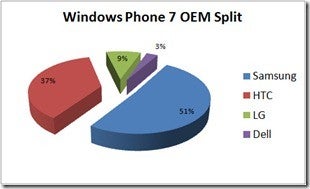 A survey of 1,500 Windows Phone 7 users reveals that the majority of the phones being used are branded with the Samsung name
Recommended Stories