Samsung gets home Court advantage with Apple's new law suit filed in South Korea
27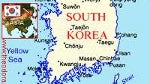 On Friday, Apple announced that it is moving its
patent litigation
against Samsung to the latter's home country of South Korea. Steve Park, a spokesman for Apple Korea confirmed that a law suit was filed in Seoul Central District Court. Apple Korea also released a statement saying that it is no coincidence that Samsung's products resemble the Apple iPhone and iPad from the
hardware
, to the
UI
and even the
packaging
. The company said that it must defend its intellectual properties when someone steals them. Samsung replied that it too would defend its intellectual property.
The Suit was filed June 22nd and claims that Samsung's Galaxy S model copied the design of the third-generation Apple iPhone. Apple started this legal fight against Samsung back in April
when it first sued the South Korean based Samsung in U.S. Court
, claiming that "
Rather than innovate and develop its own technology and a unique Samsung style for its smart phone products and computer tablets, Samsung chose to copy Apple's technology, user interface and innovative style in these infringing products.
" Samsung returned the volley with suits against Apple in
Korea
,
Japan
,
Germany
and the
U.S.
Since then, Apple has requested to see Samsung's prototypes of upcoming smartphones and tablets, a request granted by the courts. In response, Samsung demanded to see Apple's work in progress on the iPhone 5 and iPad 3,
a request characterized as harassment by Apple
-and the courts agreed, disallowing Samsung's request.
Apple and Samsung have a
complicated relationship
. Besides suing each other, Samsung does supply parts for Apple products including the iPhone. Last year, Apple was Samsung's second largest customer with orders totaling $5.7 billion. According to China's
Commercial Times
, Apple might replace Samsung with Taiwan Semiconductor Manufacturing Company with the
introduction of the A6 chip in 2012
.
source:
AppleInsider