Samsung files new patent with WIPO for the foldable Galaxy X phone?
14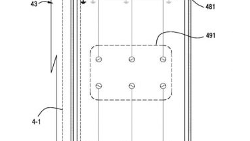 Amid talk that
the Samsung Galaxy X foldable phone will be released in 2018
, the company has filed a new patent with the World Intellectual Property Organization (WIPO). The patent reveals a device carrying two large screens with a piece of metal in between them. When the phone is not in use, the two screens fold together to protect the displays. The metal frame can bend in different ways, and there are three antennas built-in so that the foldable design doesn't interfere with the phone's signal.
Once the device is open, both screens can be used at the same time. Bending one screen in back of the other allows users to view one display at a time. The Galaxy X is said to be
a limited edition model with only 100,000 units expected to be produced
. With a rumored model number of SM-G888N0, we could see the device trotted out for the first time during next month's Consumer Electronics Show (CES) in Las Vegas. The odds of that happening improved when Samsung this morning
denied rumors about the Samsung Galaxy S9 and Samsung S9+ making an appearance at CES
. Last month, the SM-G888N0 got a support site, although it doesn't contain any information about the phone.
Samsung has filed a number of patents for foldable phones with different images. One showed
a 5-inch phone folding out into a 7-inch tablet
, and another one showed a bendable screen that allows the display to bend at a 90-degree angle.

The company's top mobile executive, Koh Dong-jin, said back in September that Samsung will release a foldable handset in 2018. The planets seem aligned for such a phone to be released by Sammy next year. The big question is, what will the Samsung Galaxy X look like?


via Let'sGoDigital