Samsung exec shares news on bendable-screen phones "right around the corner"
21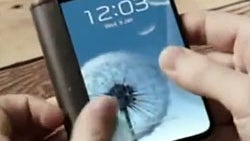 Bendable screen prototypes have been popping up at trade shows for years; the question is far from being one of whether or not we can build such displays, and instead has taken the shape of how bendable screens might work in the context of a smartphone, with all its other (not typically bendable) components. Only recently has it started to look like such
full-on bendable phones could really be about to happen
, with rumors talking about
multiple models from Samsung
, and
Lenovo even showing off some of its creations
at yesterday's event. Earlier this week a report claimed that
Samsung was looking to introduce a pair of flexible-screen phones at MWC next year
, citing unnamed "people familiar with the matter." Well, now we've got some bendable-phone news that's actually attributable to a Samsung exec, as president and CEO of Samsung Electronics North America Gregory Lee talks about his company's flexible-phone future.
Lee reflects on the slow road to commercially viable bendable phones, and it's not durability he calls out as the big stumbling block impeding those efforts, but instead cost: while Samsung's been making flexible screens for the better part of a decade, it's taken a long time to figure out how to do so at a reasonable price.
But the good news is that the stars are finally beginning to align for bendable phones, and Lee says that the arrival of such handsets with flexible screens is "relatively right around the corner."
Does that mean "later this year?" When you're thinking big-picture, we guess that MWC 2017 in late February and early March could conceivably fit that timeframe, as well. And while we might not have a specific launch window just yet – to say nothing of specific details about this first wave of hardware – it's still extra reassuring to hear high-level Samsung personnel talking about these innovative phones nearly being ready to become reality.
source:
Recode
via
Pocketnow