Samsung executive: We'd like to have a common platform for all our consumer devices
14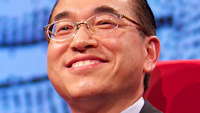 Just the other day, we showed you an infographic produced by Samsung, showing how the Korean manufacturer
was adding a premium paid service to its Milk Music app
. The streaming music service will now be free for those who don't mind hearing ads mixed in with their tunes, while those who strictly want only music will have to pony up $3.99 a month for the ad-free premium version.
Sitting down with the
Wall Street Journal
, Samsung's Wonpyo Hong, president of the Media Solutions Center, talked about what the company has in mind for Milk Music and other "stuff" like Tizen. Hong revealed that while it is too early to discuss the success or failure of the app that is powered by Slacker, 380,000 people have downloaded Milk Music. Right now, the service is limited to certain Samsung Galaxy models, but Hong says that Sammy wants to expand it to more of its phones and tablets.
Hong told the paper that Samsung is going to be more active in mergers and acquisitions (or M&A as the big boys call it on that street called Wall). The Samsung executive did say that it was too soon to discuss an acquisition in mapping, but said that location-based services is an area that interests the Korean based firm, because of Sammy's focus on mobile.
Hong might have hinted about Samsung's plans for Tizen when he said that it was one of the platforms that it would like to offer from among a number of software choices. But he also said that Samsung would like to offer a common platform for mobile, television and home appliances. He did say that Samsung is thinking about offering more products besides a smartwatch, powered by Tizen. On the other hand, he also seemed to play down the importance of the platform by talking about the emergence of HTML5. He also said that the Tizen name is not important to customers. All that is important for Samsung as a hardware company, noted Wong, is to use software to add value to a Samsung device.
"I don't necessarily think the name Tizen is an important brand to consumers. Integrating software with hardware to make a great product—that's what we want to communicate with consumers."-Wonpyo Hong, president, Media Solutions Center, Samsung
source:
WSJ