Samsung debunks the myth that the flexible Galaxy Skin phone is anything but a concept render
9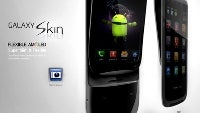 Oh, come on now! It looks that International Business Times has been engaged in some wishful thinking about the
Samsung Galaxy Skin flexible phone concept
, when it said Samsung is preparing it for launch in Q2 of 2012.
That's the period when
Samsung plans to have production-ready flexible OLED screens
, so the publication probably engaged in some extrapolating to tie this timeframe with the launch of a flexible phone from Samsung.
After the news circled around the blogosphere, the Korean company's PR was forced to come up with an official statement that
the Galaxy Skin is merely a concept render
, created as a project in a Seoul university school of design, and allegedly shown to Samsung representatives when it was taking part in an exhibit:
It is a project that has been carried out by design students and is just a concept product. Samsung was not involved in the project. The students used the name Galaxy Skin and the Samsung logo in their concept to make it look more like a commercial product.