Samsung's new AMOLED display is seamless, can be folded
34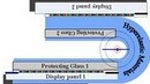 A while back ago, we
showed you
some of the ways that Samsung was working on its AMOLED displays to make them able to twist and turn. But besides this research into more flexible displays, the Samsung Advanced Institute of Technology has developed a
seamless
display that allows you to fold the screen in half without a crease. This could allow for future production of a phone with a huge display that the user unfolds to use. When done using the display, the user simply folds up the AMOLED screen. This will allow the Korean based manufacturer to produce a phone with a large sized screen, but with small measurements.
The seamless display is made from two AMOLED panels, a glass cover, silicone rubber and a modular case. Even when folded 100,000 times, the brightness at the center of the display where the two panels meet, decreased by an amount too small to be noticed by the human eye.
Don't expect to see this technology on a Samsung handset soon. The company says it will take about two years to be used on a new phone as the process needs to be perfected.
source:
OLED-Info

Samsung has developed a process to make an AMOLED screen that folds without creases