Why is the Galaxy S11 camera named 'Hubble'? Because it can do 'Space Zoom'
14
While we don't expect the
Galaxy S11
to be completely different than the
Note 10
in terms of design, the crystal ball is telling us that there may be unprecedented upgrades
in the camera departmen
t.
The camera set on the Galaxy S11 may opt for higher resolutions, more variable aperture steps, extra time-of-flight sensors and higher zoom levels, and that's just what we've heard so far. These are all things that exist, however, and if they mean they will be on the S11 in improved versions, that's not as exciting but let's not get ahead of ourselves.
There are new 64MP and
108MP
sensors from Samsung that output 16MP and 27MP photos in a pixel-binning mode that combines color and brightness information from four pixels into one virtual. Not only is the resulting photo file smaller in size, but also the snap itself is usually able to overcome a smallish pixel size with some algorithmic trickery. Yesterday, Xiaomi announced its
Mi Note 10
juggernaut that uses precisely that 108MP sensor from Samsung that has been
customized for its phones
.
The result? Preserving the image detail at higher zoom levels on par with what Huawei, for instance, is able to achieve with its record 5x periscope zoom on the
P30 Pro
. That same 108MP sensor is tipped to be slated for the Galaxy S11 models as well, and when Samsung does it, a little bird tells us that it may fuse the camera hardware and software better than what it did for Xiaomi.
Samsung is so certain of the eventual
stellar zoom capabilities
of the S11, in fact, that the rumors are pointing towards an internal "Hubble" codename for one of the S11 cameras in the kit. As if to add more water in that particular rumor mill, today the fine folks from
LetsGoDigital
have unearthed another trademark granted to Samsung by the
EU patent office
. Can you guess what it is?
Space Zoom, brought to you by Hubble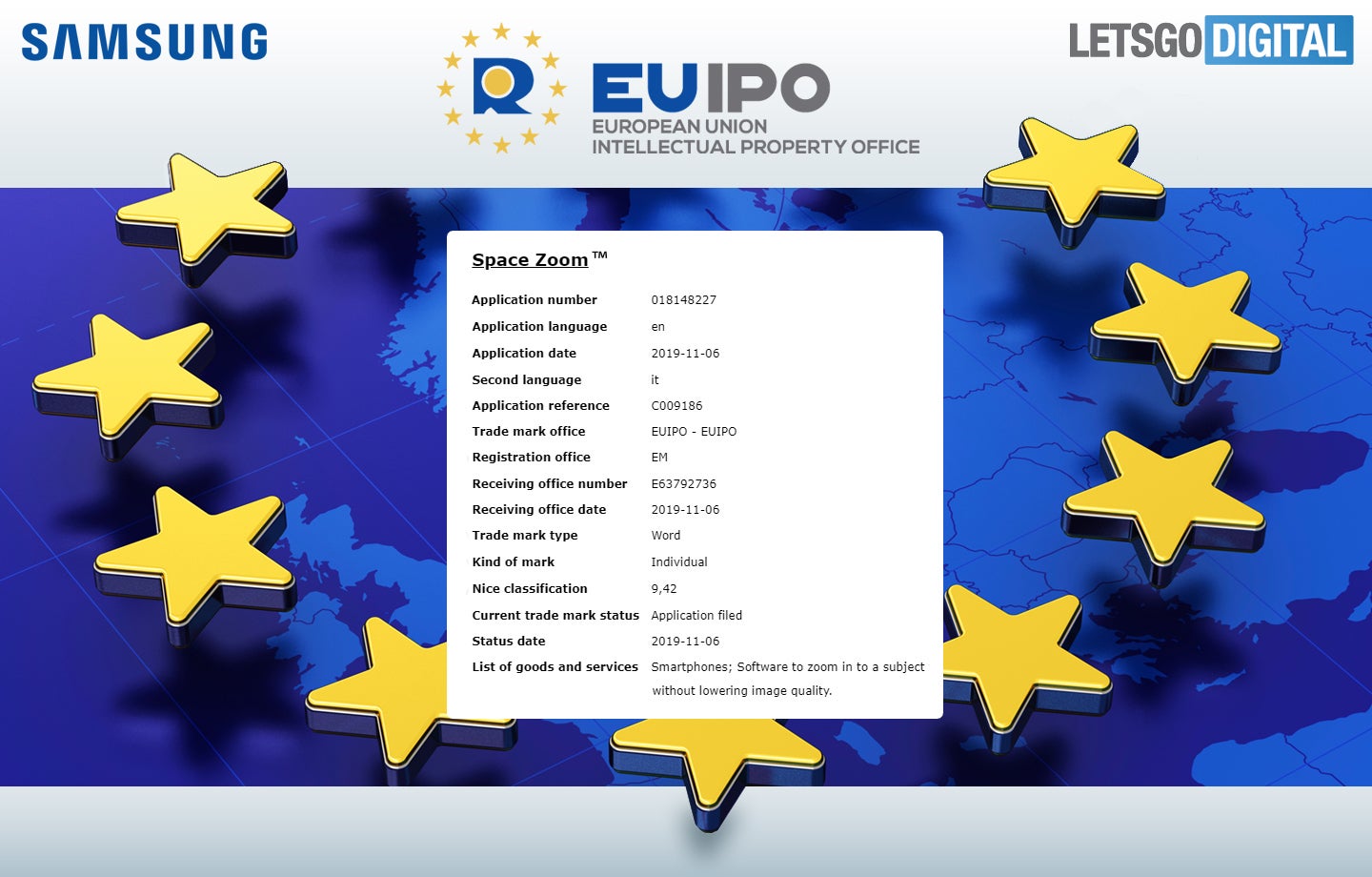 We don't want to bore you with explanations, but we owe it to those who are just discovering the wonderful world of cell phone camera marketing circa 2019. After Huawei announced the P30 Pro with its 5x optical zoom of the periscope type that houses the sensor perpendicular to the lens, it gave an example of the 50x hybrid magnification it is capable of achieving with... a
moonshot
.
Say what you will about such stunts, but this was the most talked about feature in the otherwise excellent phone, creating the most headlines in non-specialized publications. Needless to say, it is now a thing to advocate how your phone can zoom far enough to take pictures of celestial objects, and Google employed the tactic with its new
Pixel 4
phones, too, dubbing them as good for...
astrophotography
.
Last but not least, a Samsung supplier is reportedly building a dedicated factory for time-of-flight (ToF) sensors, like the one on the Note 10+, and analysts forecast a surge in demand for those. These will be used for better spatial perception, superior face recognition, and improved portrait-style shots. Samsung's ToF onslaught is expected to invade even its midrangers, so the rising time-of-flight tide is likely to lift the Galaxy S11 boat as well.
Long story short, Samsung won't be straying away from the "crazy camera" pack, it seems, as it may be doubling down on the insane zoom marketing by introducing a Space Zoom mode or feature for the Galaxy S11 "Hubble" series.
Just as the Hubble Space Telescope, which has been in orbit since 1990 as one of the largest and most versatile of its king, is known as both a space exploration tool, and a public relations jackpot for astronomy as a field, the Galaxy S11 with its Space Zoom may be just this special something that Samsung needs to have everyone talking about its spring chicken. What do you think?