Samsung Pay demoed in hands-on video, works with both NFC and legacy credit card readers
23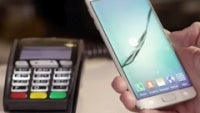 Back at MWC 2015 in early April when Samsung officially unveiled the
Samsung Galaxy S6
and the
Galaxy S6 edge
, the company also announced Samsung Pay, a mobile payment system that was set to compete against Apple Pay and Google Wallet.
While Samsung has recently started experimenting with its mobile payment platform in its home market of South Korea, Samsung Pay is still nowhere to be seen in most markets around the globe, some four months after the two new Samsung flagships reached the market. As a result, although Samsung detailed how the platform will work
in a previous video
, most smartphone users around the globe have no idea of what to expect from Samsung Pay in terms of real-world usage.
It's in this context that we find great value in a new video from The Times Of India, one that reveals how Samsung Pay will work in practice. Check it out for yourself:
As you can notice in the video above, the one ace that Samsung Pay has up its sleeve is its compatibility with magnetic stripe card readers. Apple Pay as well as Google Wallet (to become
Android Pay
by the end of the year) need to be hooked up to an NFC payment terminal, and adoption of such terminals is painstakingly slow.
While Samsung Pay obviously also works with NFC payment terminals, the system will also be compatible with regular swipe-based card readers, meaning that Samsung Pay will be compatible with virtually all card payment terminals. Samsung was able to make its mobile payment platform work with magnetic credit/debit card readers thanks to the $250 million that the company spent to
purchase LoopPay back in February
.
The video also reveals the straightforward procedure that users will have to follow to pay with Samsung Pay: bring up Samsung Pay by swiping up from the home screen, select the credit card that you want to use, use the fingerprint reader to authenticate, then approach the handset to the NFC or the magnetic stripe card reader.
Previous rumors have suggested that Samsung Pay will be launched alongside the
Galaxy Note 5
internationally, meaning that we might see the platform expand to more countries by the end of August.
Recommended Stories