Show me the money - Android Pay coming to over 700,000 US retailers
8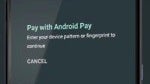 Mobile payments are coming to Android! At the I/O 2015 keynote, Google announced Android Pay, a fully-featured payments system that takes advantage of NFC connectivity and fingerprint recognition to bring mobile payments to Android users. The system relies on a virtualized credit card which acts as a proxy for your actual card, thus your sensitive data isn't shared with merchants. Speaking of merchants, Android Pay will be working with over 700,000 stores in the US that have contactless payment terminals. Google is also partnering with almost every major financial instituion you can think of.
Android Pay will also be used for in-app purchases from retailers - for example, if you're ordering food from Chipotle or paying for an Uber ride, you'll be able to use Google's payment system.
Android Pay will be available on every device with NFC connectivity, and requires Android KitKat at minimum to operate. This means the feature will not be exclusive to devices with fingerprint readers, which is another interesting topic by itself. To facilitate mobile payments, Android M will have native fingeprint recognition support available to developers through a single, standardized API.
Android Pay's rollout will happen parallel with the launch of Android M.