Samsung Galaxy series Android 6 Marhsmallow update roadmap: here is when you can expect it
40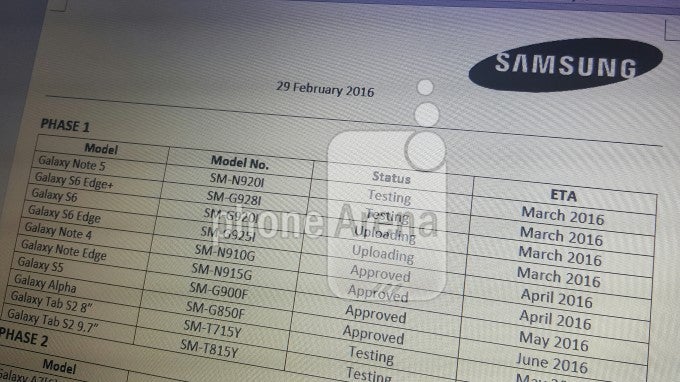 Samsung has already
started updating its Galaxy S6 and S6 Edge phones to Android 6 Marshmallow
with the new and improved version of TouchWiz on top of that, but if you have some other Samsung phone, chances are that you don't know when and whether it will get updated.
We have now obtained information from a source familiar with Samsung's plans about the company's dates for the Android 6 Marshmallow update.
Good news is that all of last year's top Samsung phones should get updated to Android 6 by the end of March 2016, while last year's top Samsung phones will get updated in April and May. Samsung is even planning to update the Galaxy Alpha, a device released in late 2014, with the update for it coming in June 2016.
Here is the full list of top-priority Samsung phones due for update soon:
Next on line are devices that are not considered flagships, but will still get the Android 6 update. The list only mentions one such phone, but the list is likely a bit longer than that:
With the Galaxy A7 (2016) listed for update, it's reasonable to expect the Galaxy A5 (2016), and other mid-rangers to get updated to Android 6 this summer.