Samsung Galaxy S9 and S9+ hands-on: worthy of celebrity hands
35
For every smartphone market watcher out there, it's clear as day that Samsung is doing a rather awesome job with its Android smartphones. In fact, the company is doing tremendously great - its Galaxy S line of high-end phones is incredibly successful, and is the only smartphone you can see in celebrities' hands, other than iPhone. Indeed, the Galaxy S has achieved what almost no other Android smartphone has: people like it and desire it for the sleek product that it is, and not for reasons such as 'affordable price' or 'good value for money'.
2017's Galaxy S8 was a great leap forward, introducing a superb new design with a gorgeous Infinity Display and materials that just begged to be touched. It also built upon Samsung's excellence in camera and unique software experience. This year, the new Galaxy S9 and S9+ don't bring a striking reinvention of the exterior; however, they do introduce a wonderful set of new features and improvements that make them even more enjoyable phones than their predecessors. If you are an S8 or S8+ owner, you're not expected to upgrade with this generation. For most other Android users, though, the S9 and S9+ will be extremely tempting propositions.
Design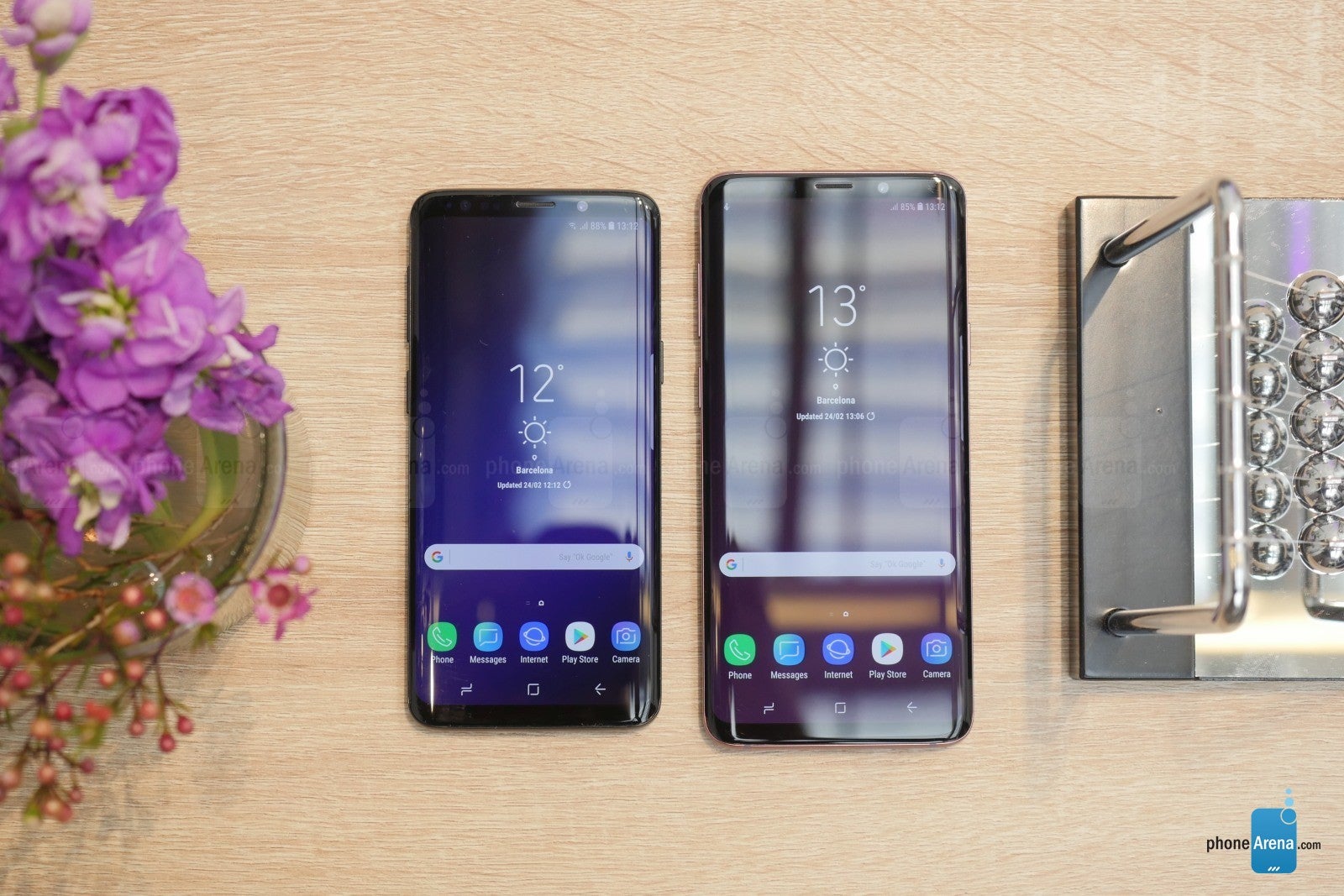 Externally, the Galaxy S9 and S9+ don't differ much from their predecessors. In fact, you may easily mistake an S9 for an S8. Samsung says the bezels have been reduces even further, but the difference seems mostly negligible. What's easier to notice is that the corners of the Galaxy S9 and S9+ aren't as rounded as those of the S8. They are not as rectangular as the Note 8, but somewhere in the middle between the S8 and the Note 8 in terms of roundness. This new shape looks quite good.
While the S9 and S9+ are still made almost entirely from glass (and are just as water- and dust-resistant), there's been a change in the metal frame's design - it has to do with the finish, which is now somewhere between the high-gloss polish finish of the S8 and the matte frames of past devices, like the S7. So it's neither very matte, nor entirely polished. Whether you like this or not will be personal preference, but what we feel is that this new, middle-of-the-road finish will do well at appeasing fans of both shiny and matte surfaces.
There are just two more design changes to talk about, but they are important: first, the fingerprint sensor has been re-positioned below the camera, as expected, so it's now considerably easier to reach and find by touch. This is an especially important change for the S9+. And second, there's good and bad news concerning the color variants. The bad news is the Arctic Silver (light gray) color is unfortunately gone, but the good news is it's replaced by a darker gray variant (kind of like Space Gray), which does look rad in its own way. The black color option continues on, and it's just that - black, while the blue and orchid gray color variants have more saturation to them now. While in the S8 they were quite toned down and easy on the eye, on the Galaxy S9 they seem more vivid and saturated - not to the point of looking toy-ish or cheap, but maybe just not as mature and accessible as on the S8.
Galaxy S9 & S9+ Display & speakers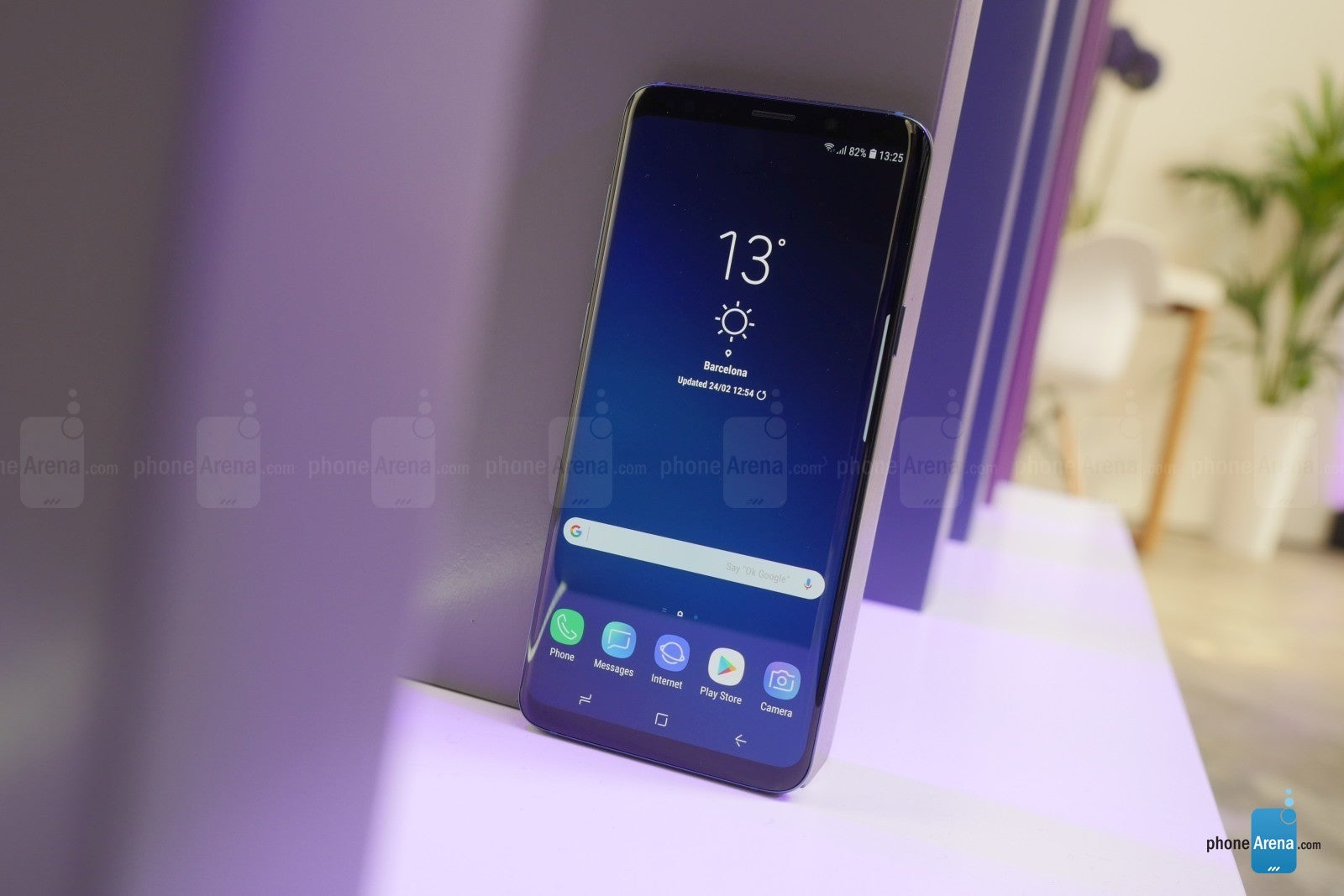 Screen sizes in the Galaxy S9 and S9+ remain the same as in their predecessors: 5.8" and 6.2", respectively. Resolution is also unchanged, at 1440 x 2960 pixels, guaranteeing superb screen clarity and legibility. One small change Samsung mentions is that the front glass now does a better job at hiding the front camera and other sensors in the upper bezel, while on-screen blacks should be slightly deeper. We'll need more time with the S9 to evaluate whether there's an actual difference in screen quality compared to the S8.
A pleasant surprise is there are stereo speakers on the S9 line now - a first in a modern Samsung phone. The configuration Samsung's chosen is more or less identical to that of iPhone 7 and up, with one bottom-facing speaker (accompanied by a 3.5mm jack), and one that is built into the earpiece. Our first impressions of the new speakers, which are tuned by AKG, are that they sound very good, but since we are yet to compare them against rival products, we can't make any bold claims regarding their sound quality. In terms of overall loudness, they are promised to be about 1.4x louder than the S8 speaker.
Galaxy S9 & S9+ Performance: processor and memory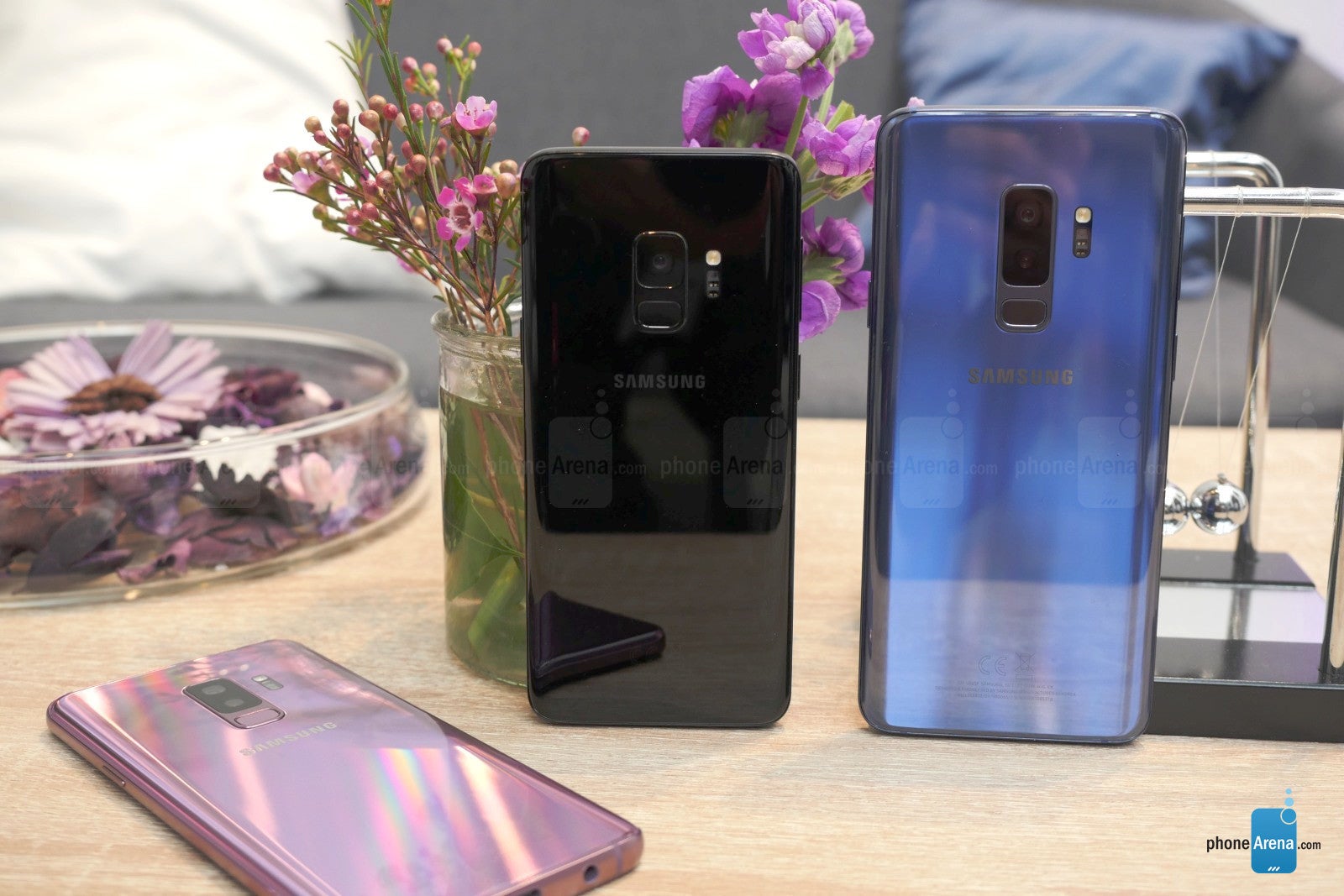 Customers shouldn't expect anything less than a top-shelf chipset in Samsung's finest, and that's what we get here. As usual with Samsung smartphones, the US market will see a Snapdragon 845-powered Galaxy S9, while internationally, the phone will feature the new Exynos 9810 SoC. Both of these 64-bit chipsets are built on 10nm process and have powerful octa-core CPUs. Traditionally, the Exynos-powered Galaxy S excels in graphics processing, and whether or not this will also be the case this year remains to be seen. The Snapdragon 845 comes with the new Adreno 630 GPU, which is supposed to be 30% faster than that in the Snapdragon 835. Meanwhile, the ARM Mali GPU in the new Exynos 9810 is estimated to be about 20% faster than its predecessor, so it'll be interesting to see how the two variants will stack up against each other.
RAM memory gets a slight upgrade, but only on the Samsung Galaxy S9+, which will now sport 6 GB RAM, while the S9 remains at 4 GB. It looks like this year Samsung is willing to differentiate the S9+ from the S9 a bit more, and the extra amount of RAM is a good step towards justifying the higher price.
Storage-wise, Samsung's new phones again come with the nicely balanced option of 64 GB, and there's also the good old microSD card slot, in which you can insert cards of up to 400 GB in capacity.
Galaxy S9 & S9+ Camera
There are some really cool new improvements as far as the Galaxy S9 camera is concerned. But, first things first - the S9 again comes with a single 12 MP shooter, while the S9+ gets the Note 8 configuration, with a 12 MP main shooter and a secondary, telephoto (zoom) camera of 12 megapixels.
One of the biggest new features is the variable aperture, which can now be either F1.5, or F2.4, as opposed to strictly F1.7 as was before. With this upgrade, the Galaxy S9 and S9+ will be able to capture up to 28% more light, and cause 30% less noise than their predecessors. During our demo with the new devices, the new camera's low-light capabilities looked really impressive.
First Galaxy S9 camera samples
READ MORE:
Galaxy S9 vs iPhone X vs LG V30 vs Galaxy S8: camera comparison
Another awesome new feature is the improved slow-motion mode. The GS9 and GS9+ can now record 960fps slow-mo video (just 0.2s are turned into 6s slow-mo footage!) at 720p resolution, and the implementation itself looks very promising. The phone is capable of automatic motion detection, which sets the appropriate part of the clip in slow-motion without you having to do almost anything. A manual setting is available as well. The demonstrations Samsung showed us looked awesome, but of course we'll need to test it more to see whether Samsung's implementation works well in different types of scenarios. Other than that, the produced slow-motion clips can be shared normally, shared as GIF, or if you're particularly proud of your creation, you can set it as a lockscreen wallpaper, which play every time you wake the phone up.
AR Emoji
The Galaxy S9 and S9+ camera is now augmented with the new AR Emoji, which are Samsung's answer to Apple's Animoji. AR Emoji work a bit differently, though: the S9 and S9+ don't have a sophisticated facial scanning tech, which is why they simply use the front-facing camera to take a picture of the users. After a few seconds, the phone generates a 3D avatar that kind of attempts to look like the user, although in our demo the resemblance didn't seem too meaningful. Still, you can try to further make it look like you by adjusting things like the hair color, hairstyle, and clothes. Once this is done, you get to play in real time with the 3D avatar (similar to Animoji), which may be fun for a while, but the motion detection and 3D animation are somewhat stiff and limited, compared to Apple's implementation.
The really cool thing is that the moment you create your 3D avatar, it automatically generates animated emoji stickers based on your 3D avatar and puts them in your keyboard. You can then use those stickers in messaging, Facebook, or other platform, and everyone will be able to see them. The idea is awesome, as you practically get personalized emojis that look like you. In reality, though, it's not perfect, because, as we mentioned, the avatar may end up being not-so-unique looking. Still, it's a great idea worth developing further. Finally, there are also some preset characters that you can also play in real time with, a la Animoji, with the special appearance of Mickey Mouse. Again, it may be fun for a while, but feels kind of limited and leaves a lot to be desired.
Bixby Vision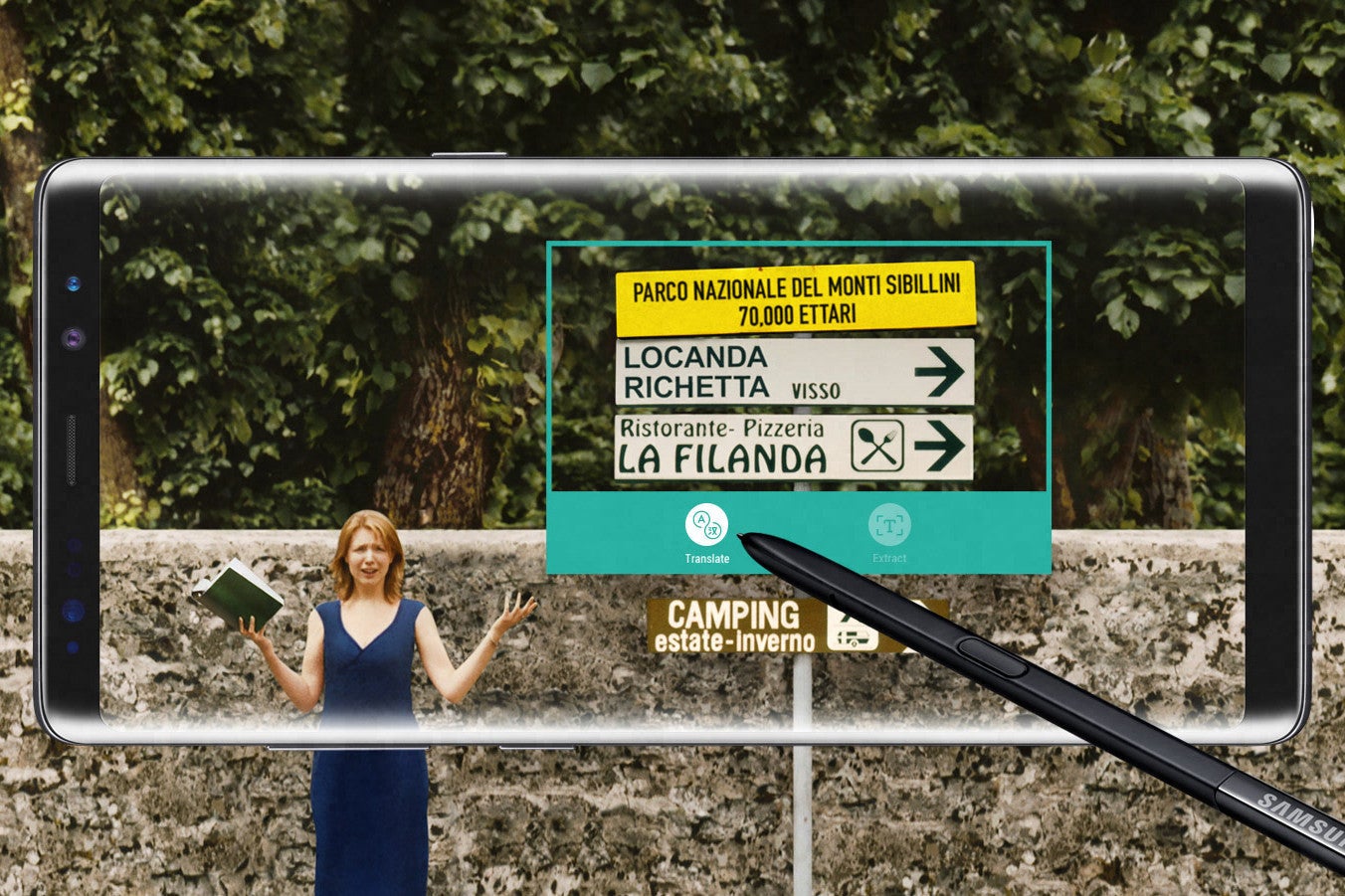 Guess who's back! That's right, it's your friend Bixby, whose latest version can do live translations, place landmark detection, and food recognition. For example, if you happen to be abroad and staring at a restaurant menu in a completely foreign language, you should be able to point the S9 / S9+ camera at it and Bixby will automatically show you a translated version of the menu. Place landmark is pretty obvious: you point the camera at a famous world landmark you happen to be lucky to be visiting, and Bixby will display relevant information about it. As for food recognition, Samsung is training Bixby to recognize different types of dishes, so it can give you nutritional information. Of course, the feature works quite well in the carefully prepared testing environments where Samsung demos it, but it'll be interesting to see just how fluent it is out in the wilderness.
Galaxy S9 & S9+ Battery life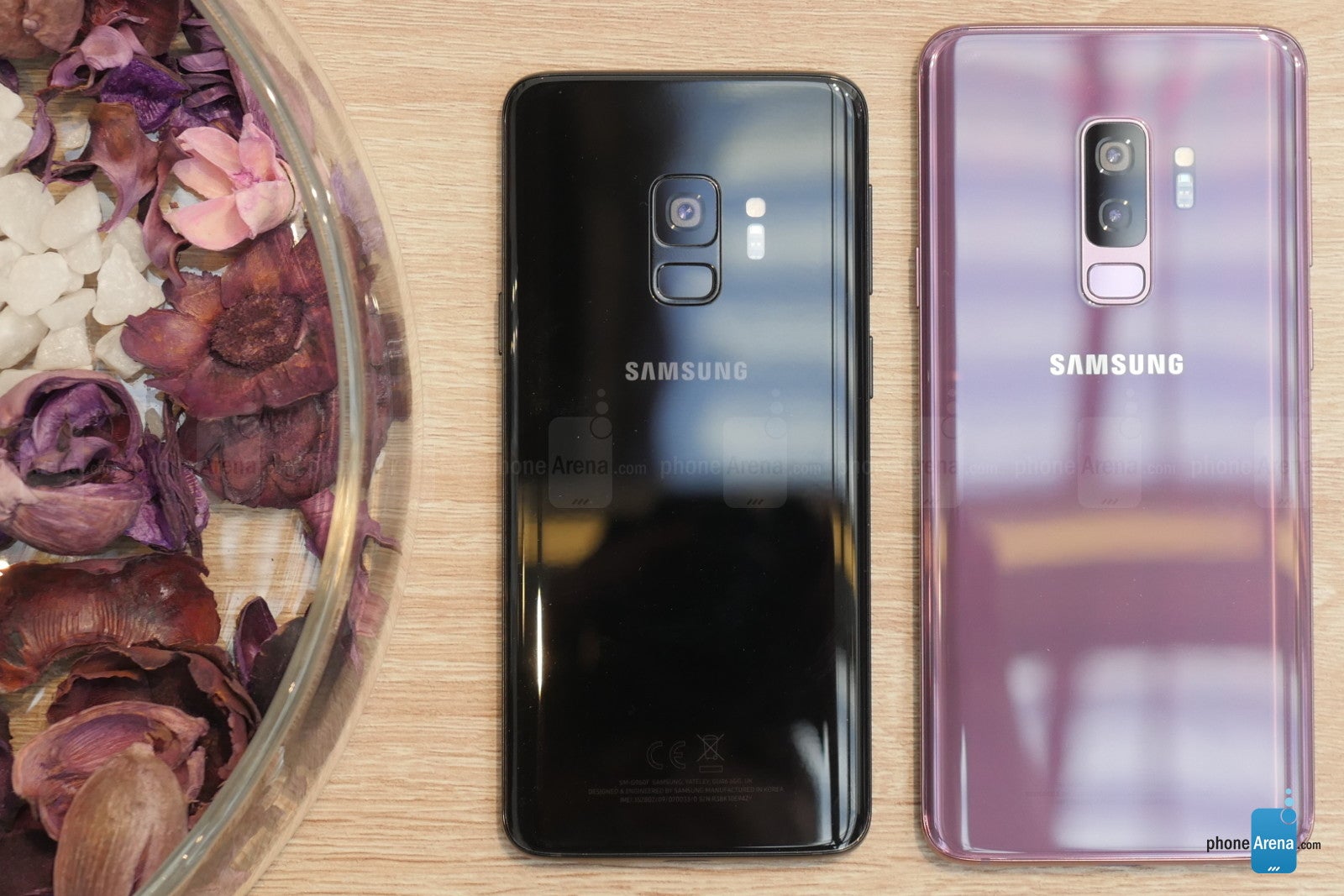 Now, now, now, we know you all want to hear good news about the batteries in the S9 and S9+, but here again, we have both good and bad news. The bad news is the battery capacities are unchanged from last year's models. The S9 gets its 3000 mAh unit, and the slightly bigger S9+ gets 3500 mAh. So, what's the good news? Well the good news is
both the S8 and S8+ scored pretty good results
in our custom battery life test, so we don't expect the S9 and S9+ to be any worse than that. What's more, Samsung's latest handsets will benefit from the latest generation of Snapdragon and Exynos chipsets, which promise improved power efficiency. What this means is that depending on your usage scenario, it may be that the S9 and S9+ actually show slightly better battery life than their predecessors.
Galaxy S9 & S9+ Price and release date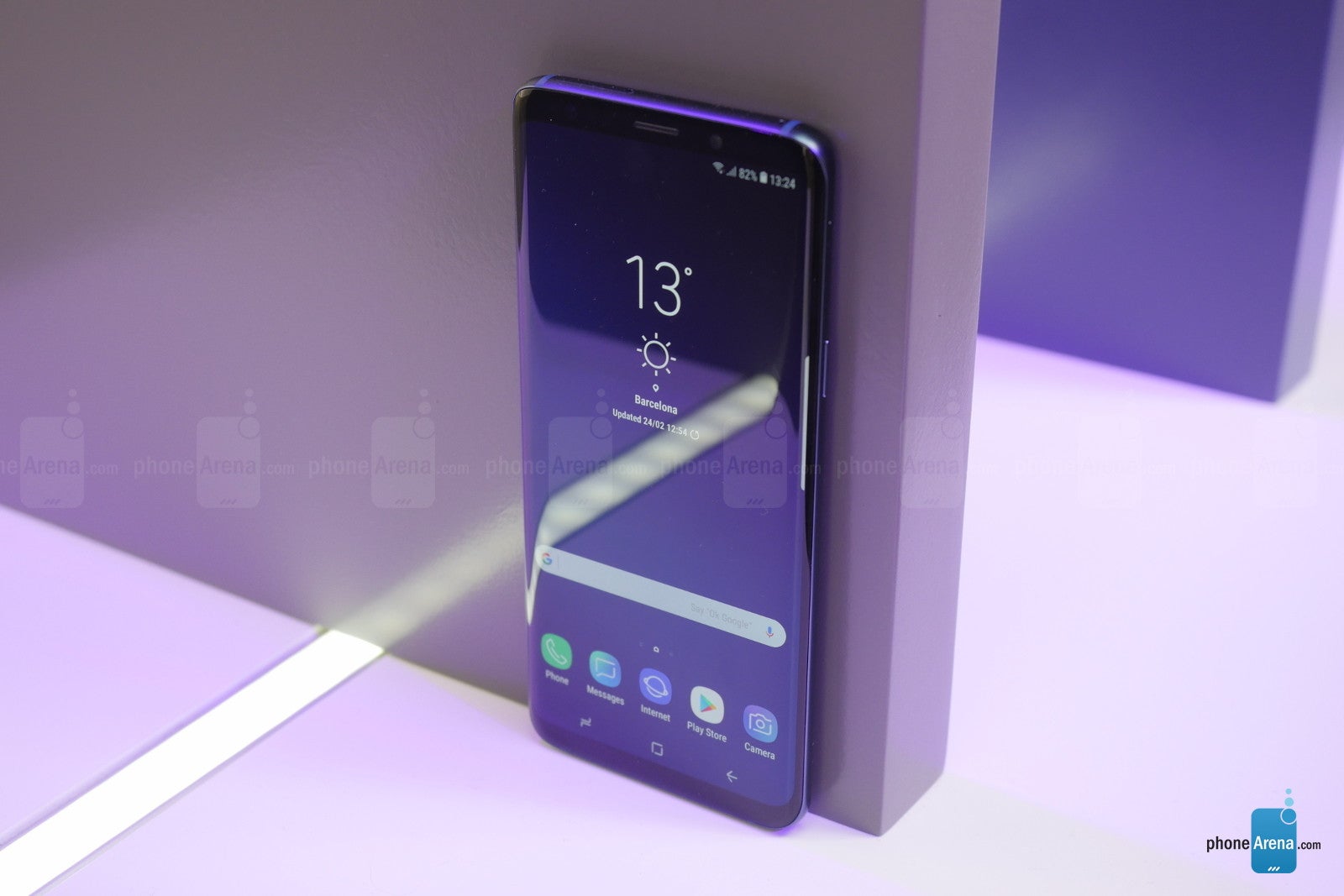 If you're willing to purchase the phones unlocked, Samsung is offering them at reasonable prices through its own website. The Galaxy S9 and S9+ can be reserved right now at $720 and $840, respectively.
Through US carriers, prices unfortunately seem to be a bit steeper, with Verizon, AT&T and Sprint selling the S9 at around $790, and the S9+ at around $920. Only T-Mobile is sticking with the pricing suggested by the manufacturer so far.
As mentioned, preorders for the Galaxy S9 and S9+ are already available, while the phones will be officially released on
March 16
.


Samsung Galaxy S9
Samsung Galaxy S9+
Perks
Verizon
$799.99 or
$33.33 per month for 24 months
$929.99
or $38.74 per month for 24 months
up to $350 off when you trade in your current device
AT&T
$790.20
or $26.34 per month for 30 months
$915
or $30.50 per month for 30 months


T-Mobile
$719.99
or $30 per month
$839.99
or $30 per month with $120 down
$360 trade-in offer for iPhone 6s and up, or Galaxy S7 and up
Sprint
$792
or $33 per month for 24 months
$912
or $38 per month for 24 months
Galaxy Forever program is included with all S9 and S9+ purchases. Up to $350 off with an eligible trade-in.
Samsung (unlocked)
$719.99
or $30 per month for 24 months
$839.99
or $35 per month for 24 months
up to $350 off when you trade in your current device
Best Buy
-
-
$100 off if you preorder through Verizon, AT&T, or Sprint on March 2nd only. After that, discount may be lower on some of the carriers. Up to $350 off when you trade in your current device.