Samsung Galaxy S7 vs Galaxy S7 edge vs LG G5: vote for the better phone
47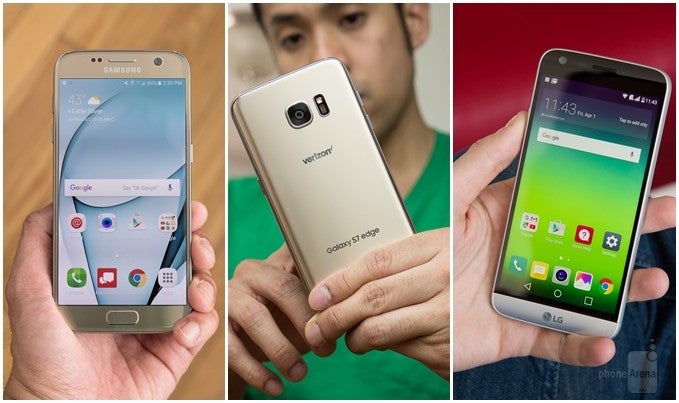 So, Samsung and LG have unleashed their flagship phones for 2016, and they're all sizzling hot. Actually, it won't be a grand overstatement to say that either the Galaxy S7, S7 edge, or the LG G5 are some of the best Android devices available right now.
Samsung and LG's finest clash in a fierce battle, you pick the winner
You can check out these in our reviews of the devices, but that's not the point of this post. Quite the contrary — we are reaching out to and asking you to choose a winner among the three noteworthy Android champs.




We are comparing them in a couple of subjective areas where each and every one of you is capable of having their own opinion. What would these be? Well, we will be asking you which one's better in terms of design, user interface, and camera performance. The polls will be open until early

April 11

. All set? Okay, let's go!



Design
While the Galaxy S7 and S7 edge are certainly not far cries from their respective predecessors, the G5 is. The latter is certainly trying to shake the industry by being the first in a couple of areas. The interchangeable modules, for example, are a first for the industry. Design-wise, LG finally joined the metal club and is ditching plastic—even if adorned with leather—in favor of cool aluminum. Have in mind that it doesn't feel like metal, because the aluminum body is covered with a significant layer of plastic.
In the meantime, the Galaxy S7 and S7 edge don't stray away from the successful design traits that debuted along with the Galaxy S6 and the S6 edge. We get a glass-metal sandwich that feels great in the hand, but attracts the arch-nemesis of almost any glass surface—unsightly fingerprint smudges—like crazy. Apart from nailing the design of the devices, Samsung has also succeeded in making them water-proof with no water repelling flaps on board, which is a commendable engineering feat.
User interface
Apart from taking a more conservative approach in the design department, Samsung also did not shake things up in the software section. Basically, what you get with the Galaxy S7 is similar to what you got on the Galaxy S6, though the new device is running on Marshmallow out of the box. Save for the always-on display feature, there is nothing major left out or added. You still get theme support so that you can easily change the appearance of you interface, making it look better... or worse. Additionally, the S7 edge comes with revamped Edge panels, which allow users to easily access different app and feature shortcuts.
Meanwhile, LG has went to great lengths to make its UX better. Dubbed UX 5.0 Home screen, LG's newest crack at nailing a smartphone interface is times more mature and sleek than its previous attempts. First of all, LG has streamlined its interface and has for the most part nixed the bright unsightly colors. These have been substituted for a simple, but way more appealing black and white theme with colorful toggles and buttons. Secondly, the whole interface has been overhauled and is now more mature in general. Unfortunately, LG's UX 5.0 has been stripped of some noteworthy features: the app drawer and Dual Window are gone.
So, which phone has the better interface and functionalities? Vote right after the gallery below!
Camera
< Samsung Galaxy S7/edge
LG G5 >
The camera setup of the LG G5 did not surprise us - it's similar to the one at the front of the LG V10. This means that we have a 1/2.6" 16-megapixel camera with 1.12μm pixels and a rather wide f/1.8 lens aperture. Optical stabilization is also a go. Meanwhile, the second camera is a 8MP ultra-wide angle one - its field of view spans 135 degrees, which is greater that the one of the human eye. Indoors, the G5 performs a bit disappointing, mostly in terms of setting the correct white balance and detail reproduction.
< Samsung Galaxy S7/edge
LG G5 >
In the other camp, the Galaxy S7 and S7 edge come with similar camera setups. We have 12MP, 1/2.5" sensors with large, 1.4 micron pixels on both. The latter allow Samsung's finest to suck in 95% more light than the Galaxy S6. On top of that, they come with Dual Pixel, a technology that allows any camera pixel to aid the autofocus process. Quality-wise, you will hardly find an aspect in which the Galaxy S7/S7 edge doesn't shine - perfect details, mostly excellent color reproduction, and very good handling of the dynamic range.
< Samsung Galaxy S7/edge
LG G5 >
Final match
So, we asked, and you answered! Still,
"the whole is greater than the sum of its parts"
, as Aristotle once said. That's why there is one glaring last question that needs to get answered. Which one's your favorite?