Samsung Galaxy S7 and Samsung Galaxy S7 edge help Samsung report higher Q1 operating profits
29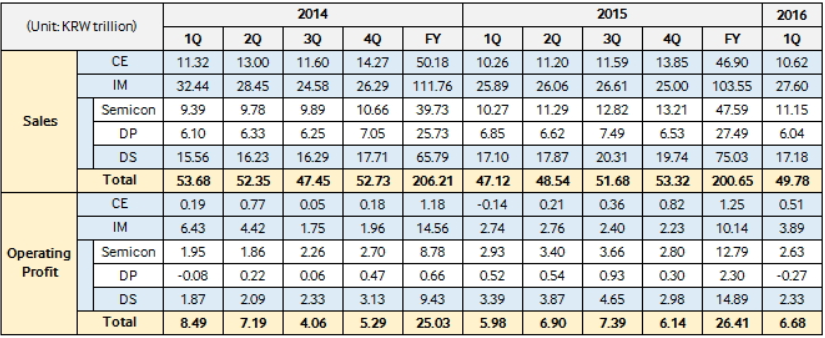 Samsung said it had strong demand for its smartphones in the first quarter led by the Samsung Galaxy S7 and Samsung Galaxy S7 edge
Samsung reported its first quarter earnings tonight, and since we are not RefrigeratorArena or WasherDryerArena, we will focus on the numbers posted for Sammy's IM division which is made up of its mobile communications and networks business. The company reported $24.2 billion USD in mobile revenue for the quarter. That is a 6.6% gain year-over-year.
Operating profits for Samsung's mobile division came to $3.39 billion USD, a 42% gain over the operating profits reported by Samsung during the same quarter last year. Samsung cited strong demand for the
Samsung Galaxy S7
and
Samsung Galaxy S7 edge
as the reason why operating earnings rose in the quarter. The new flagships were launched during the three month period ending last month. The two handsets are both waterproof (and don't require a flap to cover the ports), and the microSD slot has also returned.
Even though Samsung shipped 60% more handsets in the quarter than Apple did, the Korean manufacturer reported operating earnings for its mobile division that were just 24% of what Apple reported. Overall, Samsung shipped 81.9 million handsets from January through March.
Samsung expects year over year growth in smartphones to decline for the rest of the year. As far as the tablet market is concerned, Samsung expects an outright decline in demand on a year-over-year basis for the remainder of 2016.
"Looking ahead to the second quarter, while demand for smartphones and tablets is forecast to remain flat due to continued weak seasonality, the worldwide rollout of the latest flagship models as well as an increase in shipments of the mid-to-low-end Galaxy A and J series are expected to help the company maintain robust sales momentum and profit...As for the year ahead, Samsung anticipates softening demand in the smartphone market and negative growth in the tablet market. The company will reinforce its leadership in the premium smartphone segment on the back of the Galaxy S7 and S7 edge, while continuing to increase volume and improve profitability in the mid-to-low-end segment. In addition, the company will continue to expand the Samsung Pay service to global markets and look into new business opportunities."-Samsung
source:
Samsung
via
AppleInsider