Samsung Galaxy S20 Ultra: camera, price, release, hardware, 5G, and everything that's Ultra about it!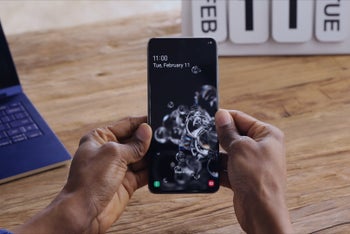 The Samsung
Galaxy S20
Ultra is finally official, and yes — it is everything we expected it to be! A huge screen housed in a slim body with razor-thin bezels, a gargantuan battery, and a camera bump so hefty, it looks like the phone ate another phone.
It was presented by Samsung at the Galaxy Unpacked event in San Francisco and, without further ado, here's all the official information about Samsung's new monster.
Pre-order an eligible Galaxy S20 device and get up to $200 in Samsung Credit for additional accessories and devices.
Design and display
The Galaxy S20 Ultra is the biggest handset of the freshly-announced Galaxy S20 trio. It has a 6.9-inch display with a resolution of 1440 x 3200 — an aspect ratio of 20:9. Of course, the screen has the signature Samsung
Edge
curve at the very ends of the screen for that premium look. And a 90.7% screen-to-body ratio means we are dealing with extremely thin bezels all around.
Flip the phone around and there we see it — a huge lump of a camera module, housing a grand total of four cameras. These are, of course, the highlight of what makes the Galaxy S20 Ultra special — the improved image quality with the main sensor and ultra-wide camera are just an appetizer and the 100x "Space Zoom" is the grand slam. But we'll get back to that in the camera section.
As for the rest of the phone — Samsung preserved that "Galaxy S" look and feel, the signature design language that has made its phones easily recognizable over the past 4 years. Sans the headphone jack, that is. The Galaxy S20 Ultra, in particular, will only come in two colors — Cosmic Gray and Cosmic Black.
120 Hz smoothness
As the rumors insisted, Samsung has finally jumped on the high refresh rate train. Now, purists will be disappointed as the S20 Ultra only lets you go into high refresh rate mode if you set the display resolution to 1080 x 2400. But we do have a feeling the screen will look plenty sharp even at that "lower" setting.
Extra details
The good news is that Samsung is keeping the microSD card slot alive — powerusers will still have the freedom of expanding their phone with up to 1 Terabyte SD cards, which should keep the fans happy.
You'll also notice that the power button has been moved to the "proper" right side — one thing that irked Note 10 users was the power button being moved on the left. Now, it's back to where it belongs, with the volume rocker straight above it.
Hardware
The Samsung Galaxy S20 Ultra, true to its name, is super decked-out when it comes to hardware. In the US, the phone will be powered by Qualcomm's Snapdragon 865 — the latest and greatest in smartphone processors, with eight cores ticking at 2.84 GHz and baked-in 5G capabilities. The S20 Ultra models start at 12 GB of RAM — quite "modest" — and 128 GB of storage. However, if you decide to shell out for the top-tier variant, you will get 16 GB of RAM and 512 GB of storage.
Finally, what's an "Ultra" phone without an ultra battery? The Galaxy S20 Ultra comes with a humongous 5,000 mAh cell. For comparison's sake, that's the size of your typical, mid-tier portable battery that you'd take when you want to be sure your phone will have some extra juice. So, we can make two conclusions here.
For one, the S20 Ultra will have a lot of juice to go on. Second, you're gonna need a bigger portable battery.
It will also charge those 5,000 mAh pretty fast — the S20 Ultra supports 45 W fast charging, which is the quickest that Samsung has made thus far. Though, the phone will come with a 25 W wallplug in the box — you'll need to buy the super-fast charger separately.
All 5G, all the way
Samsung pulled out the stops — there's no "5G variants" this year around. The Galaxy S20 series are 5G phones through and through, full stop. The S20 Ultra, in particular, supports sub-6 and mmWave, meaning it's ready for what the future has to throw at it.
Software and features
The Galaxy S20 Ultra will come with OneUI 2 out of the box — this is Samsung's own interface, built on top of Android 10. Sammy claims that One UI 2.0 is further simplified and streamlined so that its plethora of features are easy and intuitive to use.
New partnerships have been made — Spotify will now be integrated with Bixby, allowing the phone to automatically make playlists for you on the fly, once it learns your daily routine (imagine the S20 Ultra making a "wake up" music playlist for you every morning). Google Duo is also integrated into OneUI as it lets you start a Duo call straight from the Phone app (kind of like how Facetime works on iPhone). YouTube will accept 8K videos straight from your S20 Ultra. And Netflix is integrated with Bixby and the Samsung Now dashboard.
Galaxy S20 Ultra camera
Of course, the camera is the crown jewel, the centerpiece of the modern smartphone. And the Galaxy S20 Ultra comes out of the gate swinging, packed with the best camera tech Samsung has ever put on a smartphone.
OK, we have this huge module on the back with its four cameras. These are the regular wide-angle camera with a huge, 108 MP sensor; an ultra-wide, 120-degree camera with a 12 MP sensor; and the "folded lens" camera, which can provide up to 4x optical zoom, feeding a 48 MP sensor.
That crazy big main sensor camera is there for a very specific reason — whenever you need to take pictures in the dark, the 108 megapixels can do a Voltron and cluster up in groups of 9. Samsung calls this nona-binning and it gives the camera extra-large virtual pixels to work with. This means more light goes in without the need for boosted ISO or a slow shutter, so we should get less noise and blur as well.
The S20 Ultra's crazy periscope camera can go up to 100x zoom. Samsung calls this "Space Zoom" and it leverages AI power for multi-image processing, stitching up one sharp and detailed picture when you press the shutter.
The DepthVision camera
So, what's the fourth camera there for? It's a Time of Flight camera or — as Samsung calls it — DepthVision camera. What does it do? As it says on the tin — it detects depth. It's there to help with augmented reality apps as well as portrait mode (Live Focus) effects. It can determine where physical objects are and scan their sizes and edges more accurately. We've already seen this on the
Galaxy Note 10+
, now it's time to see what the S20 series can do with it!
More camera features!
There's a new Single Take photo, which will help you capture fleeting moments with more ease, at least in theory. Basically, when you press the shutter, the phone will start looking for the "right" moment and automatically take a picture then and there. For example, when trying to get everyone in a group photo to look good, a baby to look at the camera, or a pet to stop acting aloof and look cute for a second. Come on, Fido, I feed you, I walk you, the least you can do is help me with this Insta story!
And, of course, video recording is "pro-grade", according to Samsung. A new and improved Super Steady stabilization works in cahoots with an AI-powered
motion
analyzer to create smooth-moving clips. Just as the rumors said, you can capture 8K footage on this smartphone, which sounds pretty insane. There aren't that many PCs out there in the world that can even play 8K video without a hitch. Thankfully, the S20 Ultra will be able to stream the videos straight to your Samsung TV (you need a Samsung QLED 8K TV at least from 2019).
Galaxy S20 Ultra price and release date
So, when can we get this bad boy? And for how much?
The Galaxy S20 Ultra will start at $1,399 for the 128 GB version and will launch on the 6th of March. If you want the 512 GB model, prepare $1599.99.