Samsung Galaxy S20 Ultra Review
99+
We may earn a commission if you make a purchase from the links on this page.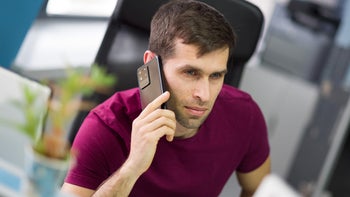 Summary
Samsung's new flagship, the Galaxy S20 Ultra 5G, tries to pack every single modern phone feature and the kitchen sink, and it mostly succeeds. It is Samsung's most expensive smartphone yet (not counting the foldables) and for the first time, the starting price is actually higher than on arch-rival Apple's top device, the iPhone 11 Pro Max.
In exchange for that high price, you get more features: the S20 Ultra comes with 5G connectivity that the iPhone lacks, it comes with a zoom camera that allows you to see things so far away that your eye cannot see them, and its screen now refreshes at double the rate for a buttery smooth experience. All of that is powered by a huge, 5,000mAh battery cell that lasts on and on.
There are a few camera kinks like a wonky autofocus in video and there are a few inconsistencies and smaller issues with the camera. Samsung has promised an update that would fix those camera issues, but while we are optimistic, we do feel like this phone has been rushed a bit. The interface is also starting to get a bit overwhelming with settings. Overall, though, the S20 Ultra will likely impress you, especially if you can stomach its $1,400 price.
Intro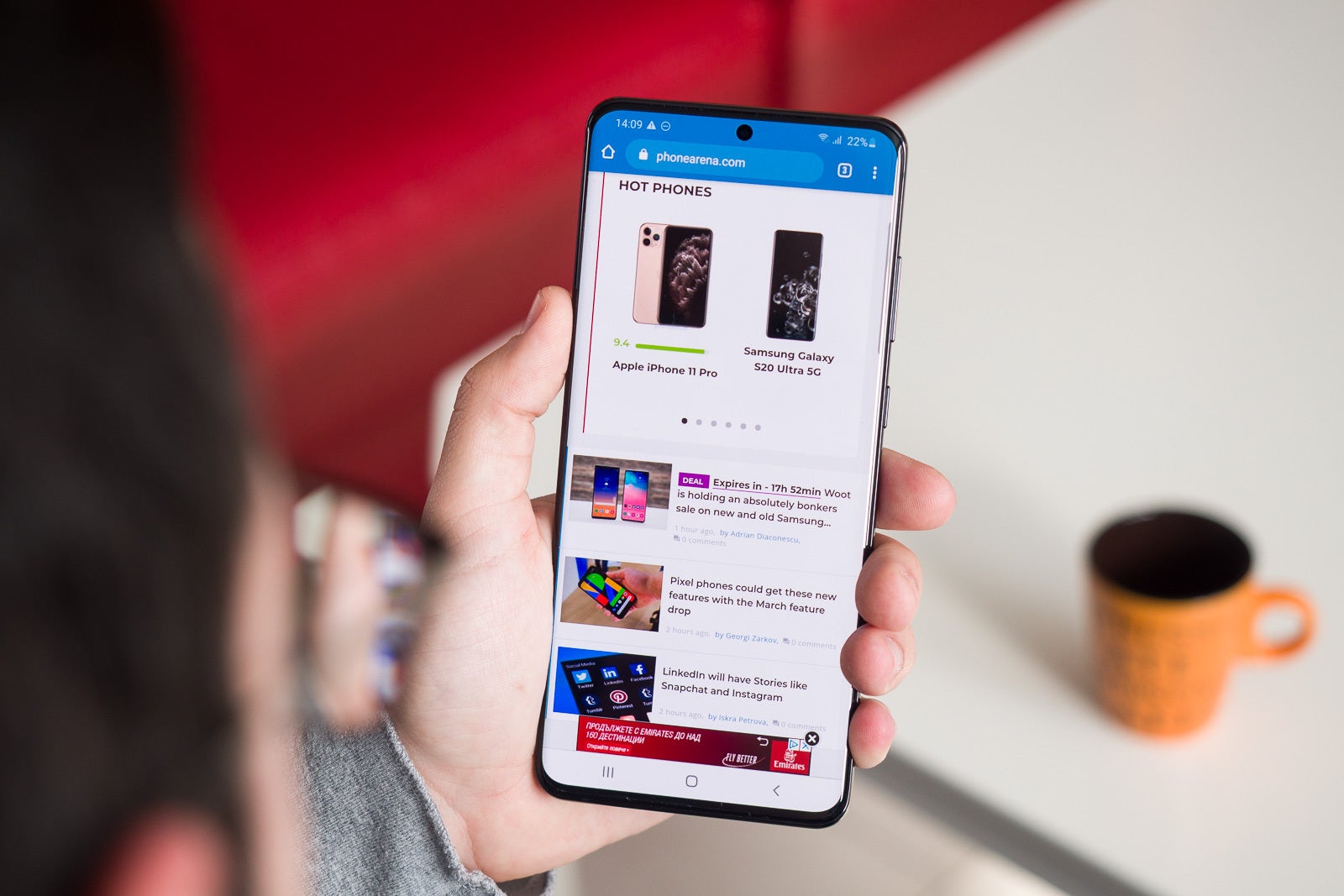 Making a phone that truly stands out these days is a tough challenge: most smartphones already look great, cameras are better than ever, and even battery life has gotten quite good lately.
So what would you do if you were the one calling the shots at the biggest smartphone maker in the world?
Well, we know what Samsung would do: come up with a crazy new camera system that can zoom further than ever before and add every new feature you could think of in a single device. After the hugely successful Galaxy S10 series last year, Samsung takes things up a notch with its most expensive phone yet (not counting the folding and flipping ones): the Galaxy S20 Ultra. It has everything you might want in a flagship phone: a big, 6.9-inch screen with colors that look incredible, a giant, 5,000mAh battery on the inside, and support for 5G connectivity. But its main focus is on the one feature Samsung says has the most value to those looking for a new phone, and it's the camera.
How well has Samsung done its job? I have been using the Galaxy S20 Ultra for a week now, taking a bunch of photos and comparing it to the most popular rivals from Apple, Google and others. Read on to find out how the S20 Ultra performed.
But first, let's start with a quick look at what you get inside the box with the Ultra:
Phone with pre-applied plastic screen protector
25-watt charger with USB-C connection (black)
USB-C to USB-C cable (black)
USB-C in-ear headphones, tuned by AKG (black)
A pair of large and small sized eartips for the headphones
User manual
SIM tool
*Clear Case (might be included in some markets and not in others)
Design
Samsung could have made this a little less boring
You might be quite intimidated when you read that the S20 Ultra has a 6.9-inch screen.
"Wasn't that as big as tablets back in the day?,"
you may rightfully wonder. The answer is a bit complicated, but put shortly, no, the S20 Ultra is definitely not as big as tablets back in the day. The reason for this is the aspect ratio which used to be more squarish on older devices, and these days, the S20 Ultra has a much taller and also a much narrower display (it uses a 20:9 aspect ratio). In fact, the S20 Ultra is quite the tall phone, yet at the same time it's even narrower than the 6.5" iPhone 11 Pro Max which uses a different aspect ratio.
Since we have already drawn some parallels, let's also say that the S20 Ultra is also quite the thick phone. Compared to its S10 predecessors from last year, it's noticeably bulkier and heavier too. You can see the
detailed S20 Ultra specs here
.
The materials Samsung uses are the familiar combination of toughened glass for the front and back, and polished, glossy aluminum for the middle frame of the device. Archrival Apple is using stainless steel for its Pro series of iPhones, and that materials feels a bit more lush, but the aluminum on the S20 Ultra helps keep the weight down and the Ultra weighs less than an iPhone 11 Pro Max.
My colleague Peter
complained about how disappointingly dull the design of the S20 Ultra is
, especially when you compare it with the mesmerizing Aura Glow finish on Samsung's Note 10 Plus late last year, a design that reflected colors in all sorts of beautiful patterns while remaining classy. Here on the S20 Ultra you have none of that eye-candy: just a plain old boring gray model and a black version, and both attract fingerprints like crazy too. Most people would probably put a case on it and not care too much, but it's strange nonetheless.
There are two important changes in the S20 Ultra: the first one is that the Bixby button is gone (good riddance!), and the second one is much more unfortunate, and it's the removal of the 3.5mm headphone jack. Not a surprise considering current trends, but definitely a feature that some people are still missing on the latest smartphones.
On the back, you have bulging out a camera module the size of which we haven't seen since the good old
Nokia Lumia PureView
times. As one acquaintance puts it,
"if my kid is scared of it, than it definitely doesn't pass the beauty test"
. Hopefully, Samsung has some serious camera magic to show in exchange for this giant camera module, we take a look at the photos and videos a bit later in this review.
Finally, this latest glass and metal concoction is also IP68 water and dust resistant, which is something that we have come to expect and it simply means that you should not worry about getting your phone a bit wet. At the same time, diving with it is definitely not a good idea, especially in salty water that would damage it, a reminder I feel obliged to put as another acquaintance of mine washed their water protected Galaxy phone in the sea only to find out its USB-C port was compromised.
Display
Samsung at its best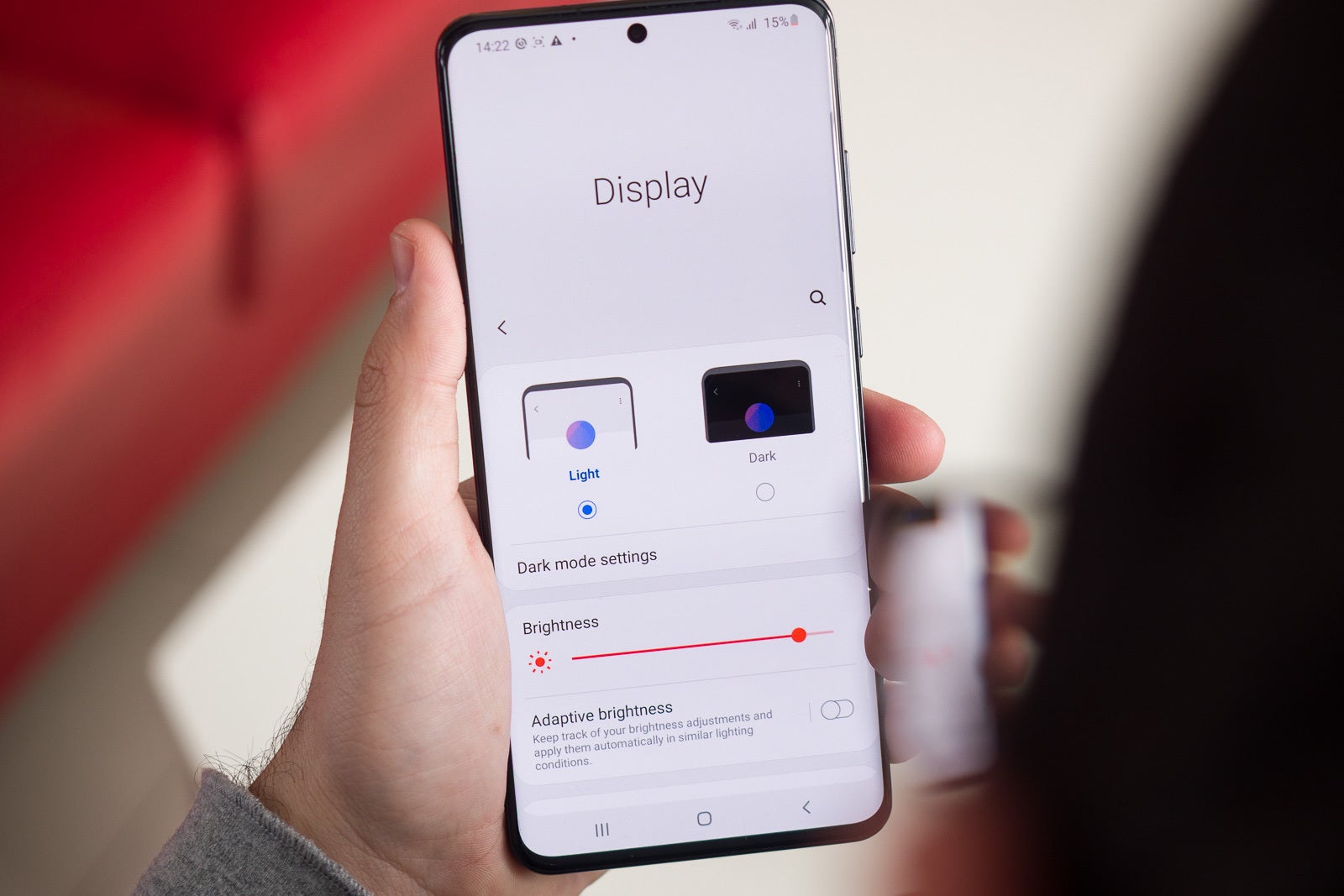 We have already mentioned part of the screen specs, so here is the full breakdown: you get a big, 6.9-inch Dynamic AMOLED screen with a maximum resolution of 1440 x 3200 pixels. Most importantly, this is practically a flat screen. Gone are the times of those Galaxy phones with their displays tapered towards the edges. We find flat screen easier to use and even small conveniences like finding a proper glass screen protector are much easier with a flat screen.
The phone has a tiny punch hold camera centered at the top and bezels so tiny that... well, it makes using the phone without a case actually quite frustrating at times as just holding it you accidentally touch parts of the screen and trigger random actions. Slap a case on it, and this problem disappears, though.
The big new feature here, however, is something called a 120-Hertz refresh rate. If you are just as devoid of memories from your high school years as yours truly, let me remind you that a Hertz is a unit of measuring frequencies, and in this case, it means that the screen of the S20 Ultra refreshes 120 times per seconds, double that of your typical smartphone that runs at 60Hz. In reality, this means that the phone reacts to your touch with a sense of urgency and immediacy that you don't quite feel on a 60Hz phone and everything appears to be running faster and smoother. The difference is really noticeable and you don't have to be a geek to see it BUT and that's a big one, it will also result in considerably higher power consumption. That is why Samsung gives you the option to go into the display setting and change it to the traditional 60Hz mode where you will get better battery life.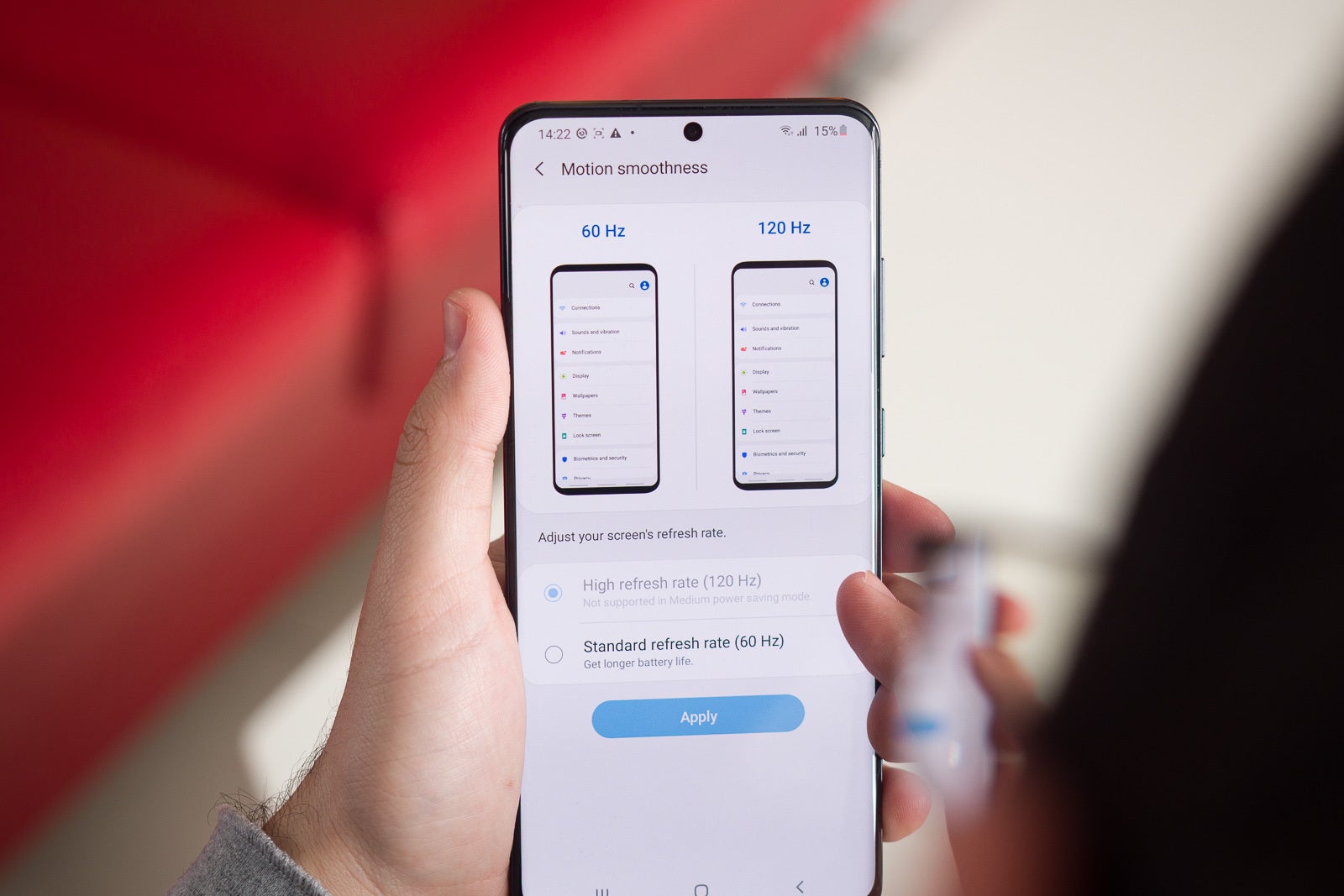 There are two things to know about the 120Hz option: first, it's not available in the maximum Quad HD resolution and it only works in Full HD mode; and second, there is no in-between 90Hz option, which we find a bit strange as that would have been a nice balance between smoothness and not too high of a battery drain.
The rest is all about the colors and Samsung as a company that is also making AMOLED screens has absolutely mastered them. You have two color modes: a Vivid and a Natural one, which basically lets you choose between oversaturated, vivid colors (the default option) and more toned down colors (that is the option we prefer as we find the Vivid mode a bit too unrealistic).
Traditional staples of the Samsung display experience are all still present: you have the quite useful Always-on Display option that gives you a quick peek at notifications, you have the Edge lighting which lights up the edges of the screen with a pulsating color show (this is meant to replace the traditional notification LED light that is missing here), and you have the Edge screen with shortcuts.
Fingerprint Scanner and Security
Room for improvement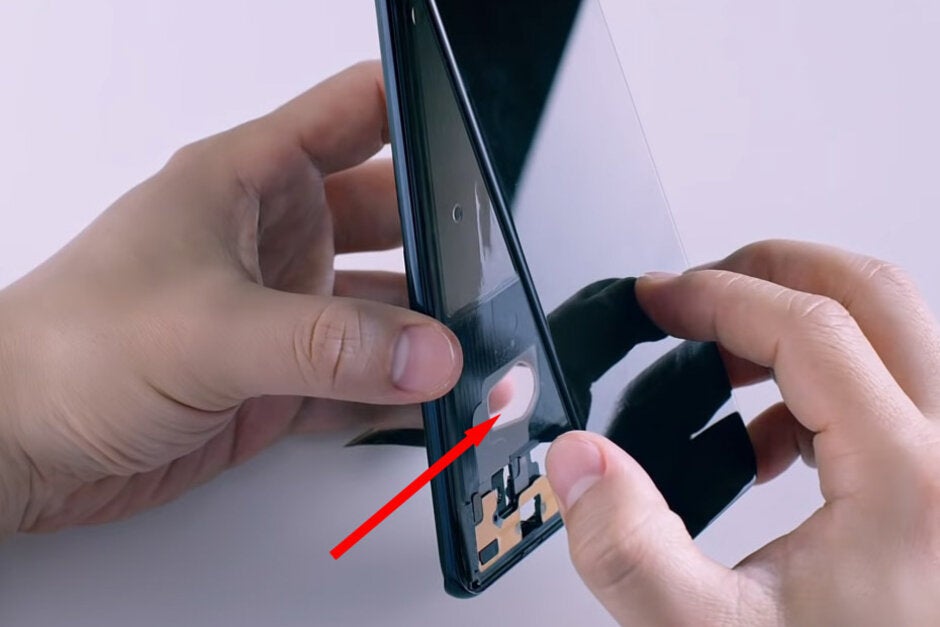 One of our biggest complaints with the S10 series and then the Note 10 series was the fingerprint scanner. Samsung used a fingerprint reader embedded under the screen and one of the ultrasonic kind, meaning that it uses sound waves to read the ridges and specific pattern of your finger to recognize it. This is different from most other Android phone makers that use an optical solution that uses light. Unfortunately, the S20 Ultra does not seem to have improved much from the Note series last year and the ultrasonic fingerprint scanner still feels like a hit-or-miss experience. Sure, it works most of the time, but we were having far more missed readings than on other phones.
You also have face recognition as an option. The Ultra uses 2D picture based face recognition, so it's not quite as complex and secure as the 3D models used on Apple's Face ID, or Google's Pixel 4 series, but we do recommend you try it out. Since the fingerprint scanner experience is not quite perfect, you might find it a better experience to use both the fingerprint and face recognition in tandem. Just don't forget that this face recognition system could theoretically be tricked by some malicious actor using your photo.
One UI and Android
Mostly the familiar Samsung interface with a cool new feature
The S20 Ultra is running on a slightly newer version of the Samsung One UI that we have already seen on the S10 and Note 10 series. You have One UI version 2.1 on the Ultra and the looks are the same as on the S10 series, but there are a couple of new features, chief among them a new Quick Share option that is basically Samsung's alternative to AirDrop and allows you to quickly send big files between devices without the need to deal with slow Bluetooth speeds.
The feature is not supported on the S10 series yet, so we could only test it between the new Galaxy S20 Ultra and Z Flip. To illustrate the speeds you can expect to get, we tried sending a 1GB video from the S20 Ultra to the Z Flip, and it transferred in just 21 seconds, which works out to transfer speeds of nearly 50MB per second, impressively quick. QuickShare works even when the devices are not connected to a network or even Wi-Fi. What it does is create an ad-hoc Wi-Fi network for every file transfer. While it worked great most of the time, it did not always work so fast, and on a couple of occasions we noticed slowdowns as the same transfer took nearly 40 seconds and once even two minutes, but most of the time, the speeds that you will get will be pretty incredible. We can only hope such a feature arrives on a much wider range of Android smartphones in the future.
Processor, RAM and Performance
Powerful, but some bugs with Google apps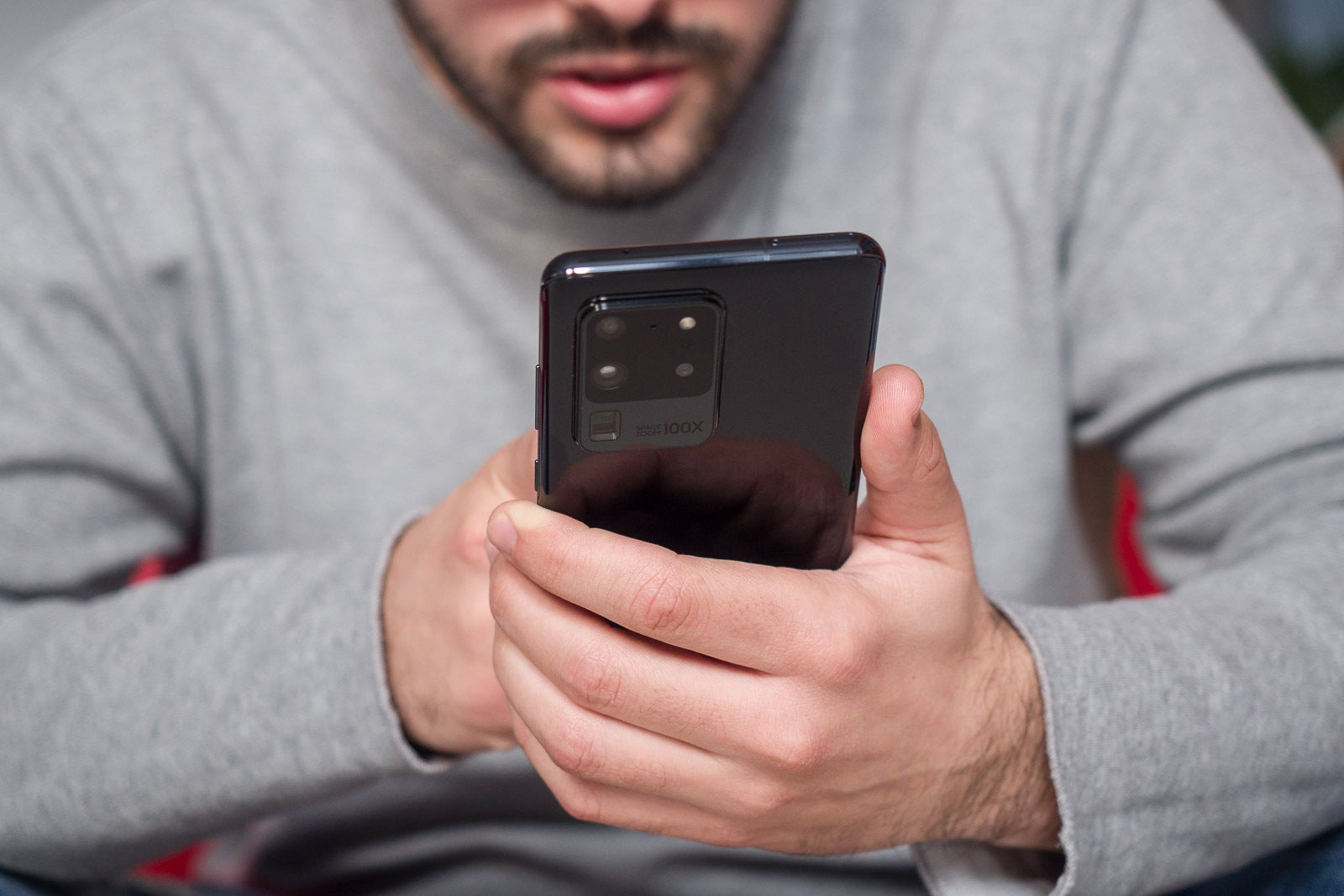 The S20 Ultra like other Samsung flagship phones comes in two versions depending on your location: customers in the United States and a few other countries are getting the S20 Ultra powered by the Qualcomm Snapdragon 865 system chip, while the rest of the world is getting the phone with the Exynos 990 chip made by Samsung.
We happen to have the Exynos model and the performance between the two might differ slightly, so keep that in mind when reading about our battery tests and performance benchmarks.
In the daily grind, the phone definitely feels fast like you would expect for a 2020 flagship, but there are a few persisting issues. The first one is a weird jitter when scrolling in basically all Google-made apps. If you are using Chrome, YouTube or Gmail, expect to see a strange jitter as you swipe around. This has been an issue for years now with Samsung phones, and there doesn't seem to be a fix in the works. In comparison, if you switch to using Samsung's browser instead of Chrome, everything runs perfectly smooth and the jitter is not there, but there are just no worthy alternatives to apps like YouTube.
But let's not be too nit-picky, and take a look at the rest of specs which are generous: you get either a 128GB storage/12GB RAM version or a 512GB storage/16GB RAM model (we got the latter) and you get expandable storage via microSD cards. This is an insane amount of RAM and it means that you can keep dozens of apps open in the background without any issue with the phone. Here are a few performance benchmarks that will give you more color about the speeds you will get on the Ultra:
Camera
Mostly great, with a few small inconsistencies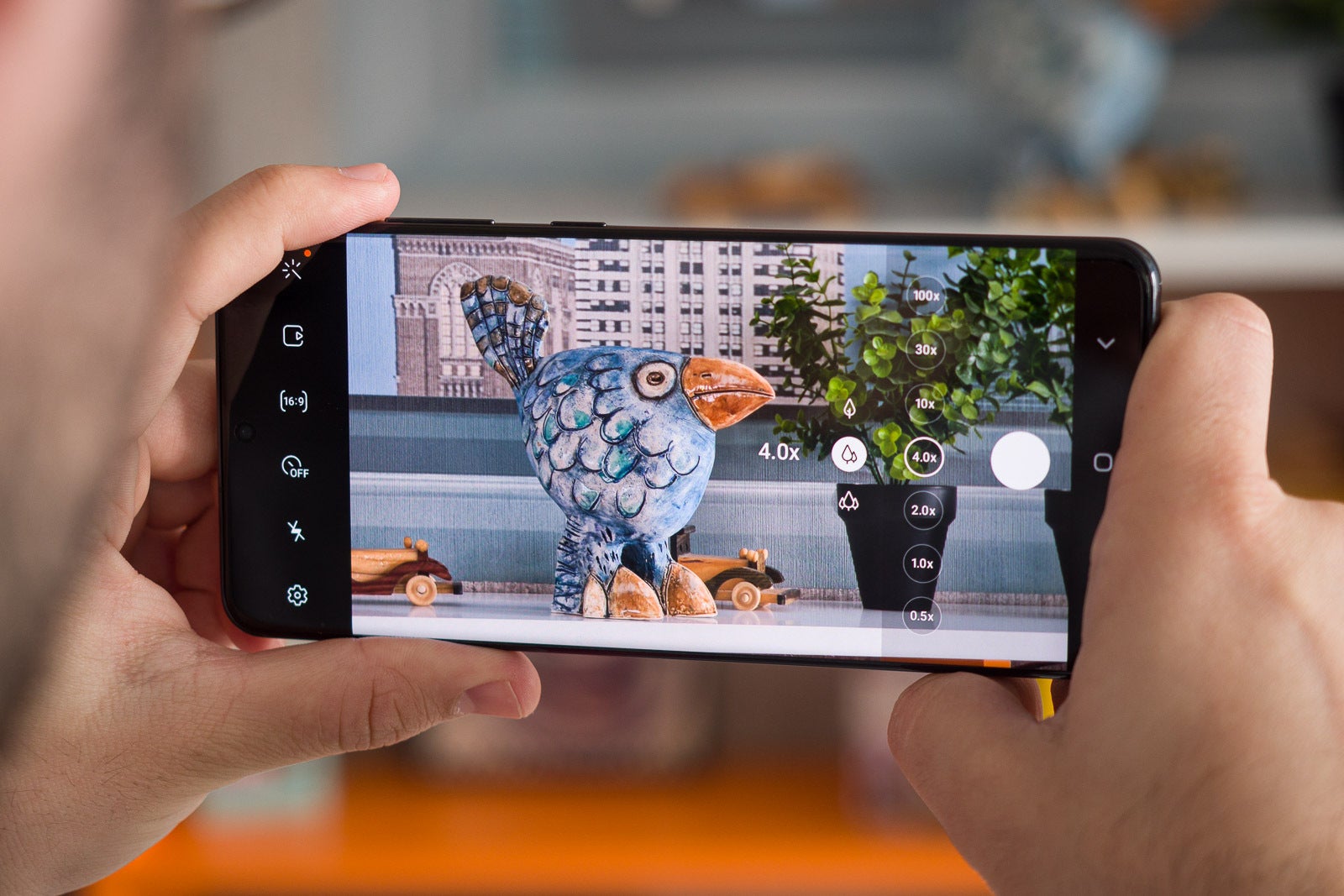 The make-or-break feature of modern smartphone has got to be the camera. As everyone is working on creating the ultimate smartphone camera, Samsung is pushing the boundaries with a huge camera bump where you can find a brand new, 108-megapixel camera sensor for the main shooter, as well as a folded periscope lens with a native 4X field of view. You also get a similar ultra-wide camera as you used to have in the S10 and Note 10 series, but what is missing is a 2X zoom telephoto camera.
Let's take a quick look at the camera specs: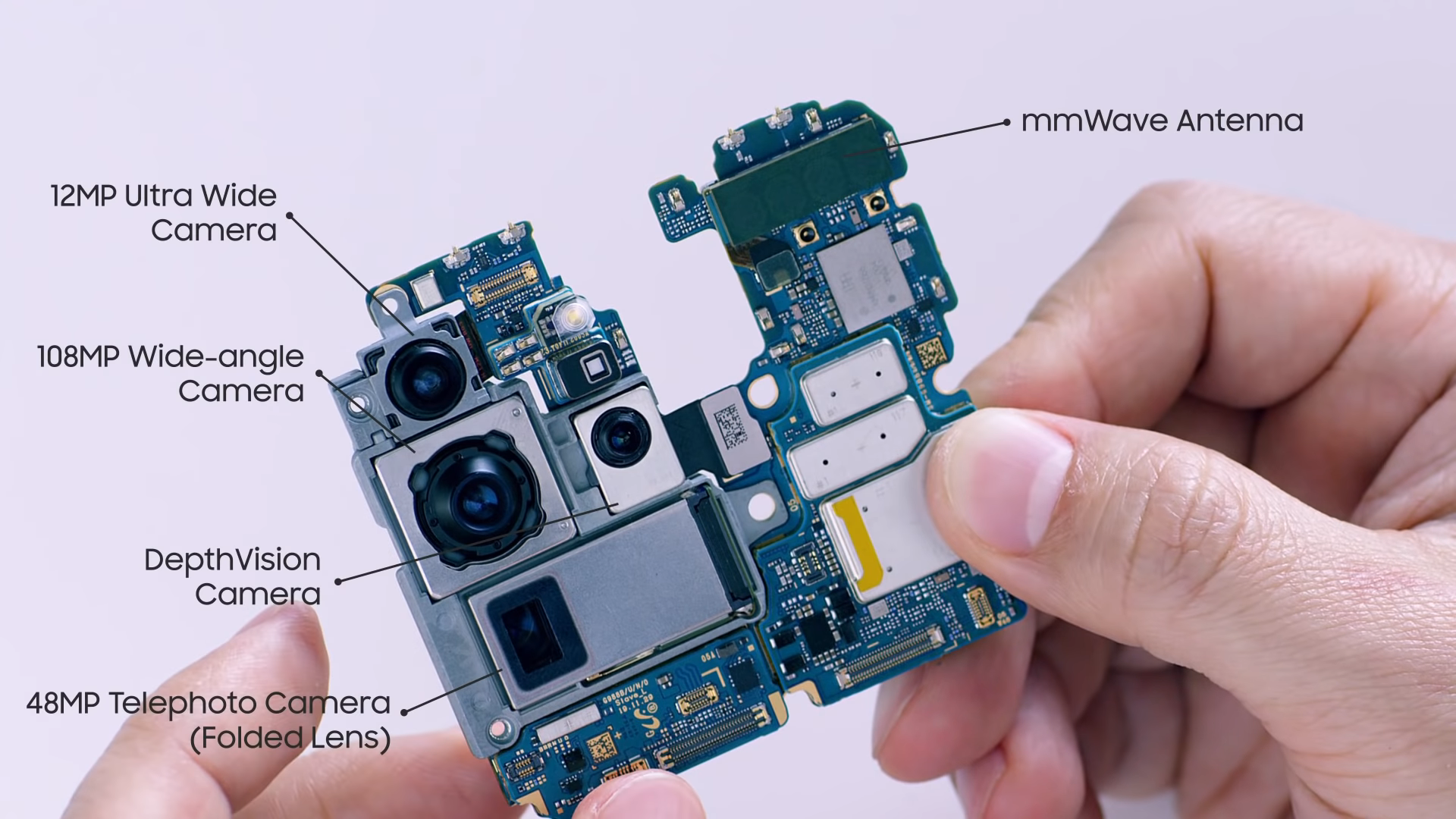 So how do images turn out?
Well, mostly great, with just a few inconsistencies. Here are a few shots taken on the Ultra to give you a rough ballpark.
Let's start with one thing that's absolutely great: this phone can really zoom better than any other phone we have ever tested. But! Forget about the 100X zoom marketing mumbo-jumbo! The only thing you get at 100X is a blurry mess, not something that deserves to be called a photograph. If you stick with the 4X to 10X zoom range the results you will get are truly incredible, clean and quite sharp, destroying other phones. Interestingly, the zoom performance until the 4X zoom level is not that impressive as the phone just seems to use digital zoom at those levels, while other phones use a dedicated 2X telephoto lens that's missing here.
If you just use the main camera, you should know that it actually defaults to taking 12-megapixel photos. It comes up with these pictures after combining 9 individual pixels from the 108-megapixel sensor and combining them into one. This way, Samsung is able to avoid the noise that you usually get with so many pixels cramped in a tight sensor, and the result is images that mostly look good. When comparing the S20 Ultra photos to other phones you will immediately notice that images from the Ultra are way sharper. In a way, that's a good thing: the Ultra has sharpness both at the center of the image, as well as the corners, which often look a bit soft and less detailed on other phones. On the other hand, however, this is not just a regular sharp photo: it is artificially oversharpened as you can see by the glowing halos of light around objects. The last time we saw such aggressive oversharpening was on the S7 Edge, and we thought Samsung has managed to fix that issue, but it's recurring again now with the 108MP sensor.
If like me, you shoot a lot of photos using portrait mode (Live Focus), you'd find that the Ultra makes one quite big compromise here: since there is no 2X lens, it will use digital zoom to give you that 2X magnification for portrait shots. This in turn means that Live Focus photos sometimes look worse than on other phones. The digitally zoomed photos don't have as much detail and quality as earlier Galaxy and are the biggest regression in this camera. Notice in the images below how the sun from the side is way too bright for the S20 Ultra and it has burned the face of our beautiful model:
At night, photos turn out quite good: the Ultra is able to gather a lot of light and it captures good looking images. You also have a Night mode available, but unfortunately it doesn't work automatically, you have to know when to use it, enable it manually and when using it, you have to wait for an excruciatingly long 8 seconds every time. It helps getting colors out of situations when even our human eyes cannot see, but in most cases, it is not something you will need to use, plus, it's just too tedious.
We also played around with the new Single Take option that now has a prominent spot in the camera: it's a fun gimmick, but a gimmick nonetheless. Point it at a subject and make sure they are doing something fun like jumping, screaming or laughing. Press the single button while the action is happening and the phone will keep on shooting with all available cameras, giving you a bunch of different angles, GIF animations, short videos and more.
On the front, the S20 Ultra features a 40-megapixel camera that combines 4 pixels into one and comes up with 10MP shots that often look quite great. We did notice that Samsung does apply a bit more skin smoothening than other phones, which might look a bit artificial, but is overall a flattering look.
Video Quality
New 8K video recording option is practically useless, but improvements to Super Steady make a real difference
The S20 Ultra is the first Samsung phone that can record 8K video. This sounds impressive on paper: 8K has double the detail of 4K recordings and promises to one day become the norm for video shooting. Unfortunately, this day is yet to come as 8K video on the S20 Ultra is not something that you should use: first of all, you can only record 8K at 24 frames per second, an important limitation, then, it is too much for this sensor as there is a terrible amount of rolling shutter, third, few devices in the world can play it back, and last, but not least, less than 2 minutes of 8K video take up more than 1GB of storage space. Samsung's marketing team is the one to blame here: the S20 Ultra shoots beautiful 4K video that we love, but Samsung has focused on advertizing gimmicky features like 8K video and 100X zoom.
For video stabilization, you have two options: the first one is the regular video stabilization that does a good job, and the second one is the Super Steady mode that you enable by tapping the palm icon in the camera app. Super Steady takes stabilization to the next level, but it uses a crop of the ultra-wide camera to achieve that, and with that decision comes a slightly degraded camera compared to regular video.
Battery Life
Battery life is solid, but using 120Hz deals a heavy blow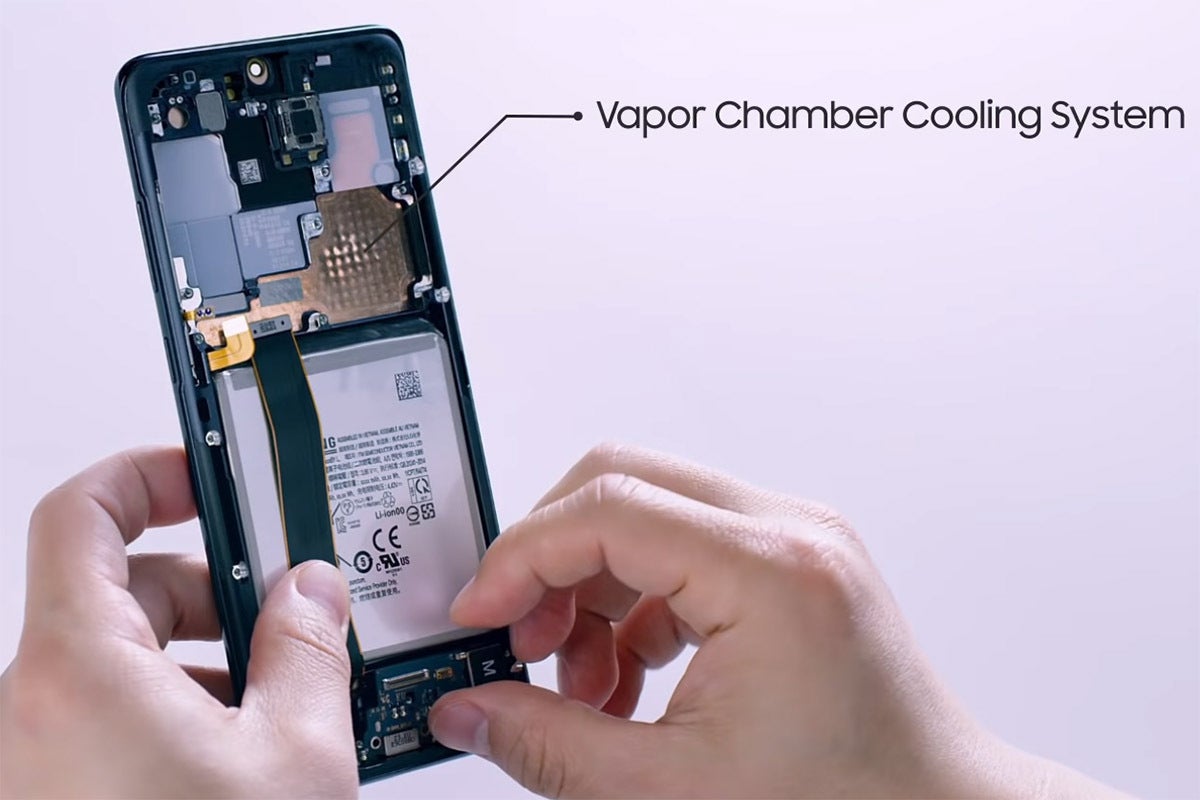 With a 5,000mAh battery on the inside of the Galaxy S20 Ultra you would only expect excellent battery life, and it indeed lives up to the expectations most of the time.
The only exception is when you actually use the new 120-Hertz option when excellent battery life turns into just above average battery life (still pretty good).
Put in real-life terms, the S20 Ultra has gotten us through those longer days without the need to recharge, but if you are hoping for 2-day battery life, that would only be possible if you use the phone moderately and have the 120Hz option turned off.
To test the effect of 120Hz on battery life, we ran our custom browsing and scrolling test on the S20 Ultra and compared it against other phones.
S20 Ultra 60Hz vs 120Hz vs other phones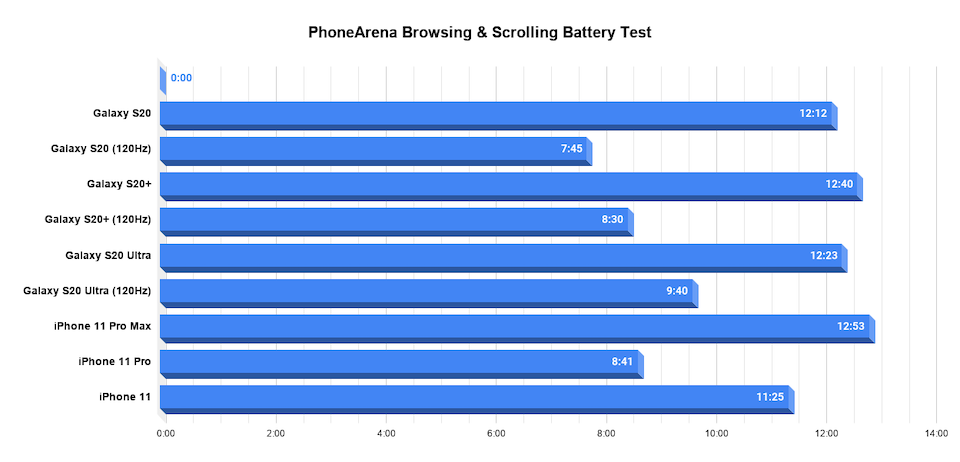 As you can see, switching to the smoother 120Hz refresh rate means battery life is taking about a 20% hit. That is not a small decrease in battery life for a single feature, but considering the overall solid battery life, we think most users would still be better off using the smoother, futuristic experience that comes with a 120Hz screen. In this line of thought, we were also disappointed that Samsung doesn't offer a mid-way 90Hz option that would provide a similarly smooth experience without taking such a toll on battery life.
Next up, we test the battery life on the S20 Ultra when playing YouTube videos. That's a more challenging task, but the S20 Ultra is up for the task, especially in this test where its battery life is not affected by the 120Hz refresh rate.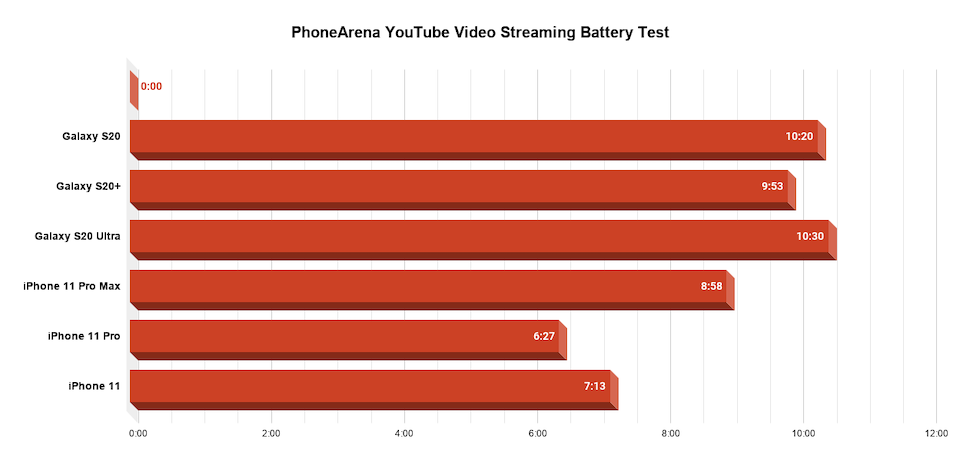 Finally, we also test how good battery life on the S20 Ultra is for 3D gaming. Those would be games like Asphalt 9, Call of Duty, Minecraft and the rest, visually demanding titles that put a heavy toll on the GPU of a phone. Here is how the S20 Ultra did: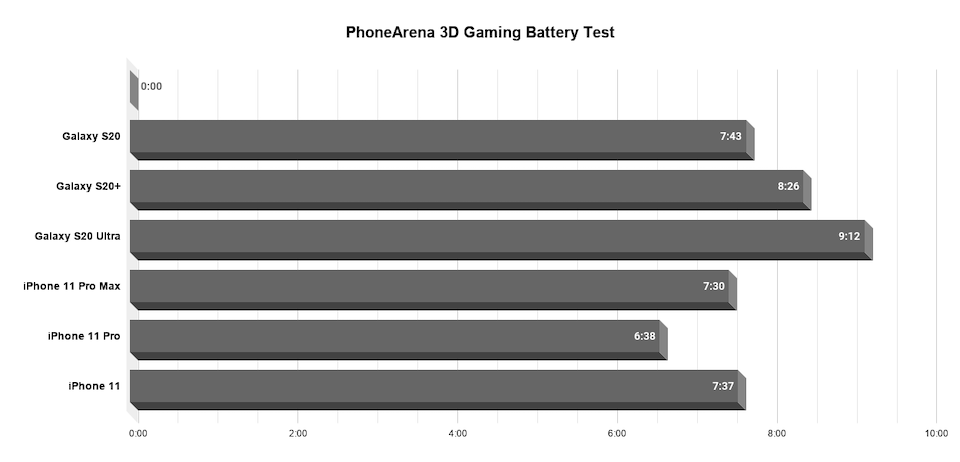 All in all, if it wasn't for the huge hit on battery with the 120Hz refresh rate, the S20 Ultra would have been among the best battery performers of the year. As it stands right now, many users might prefer to use the phone at the good old 60Hz to get the optimal battery life.
Charging Speeds
A full charge in under an hour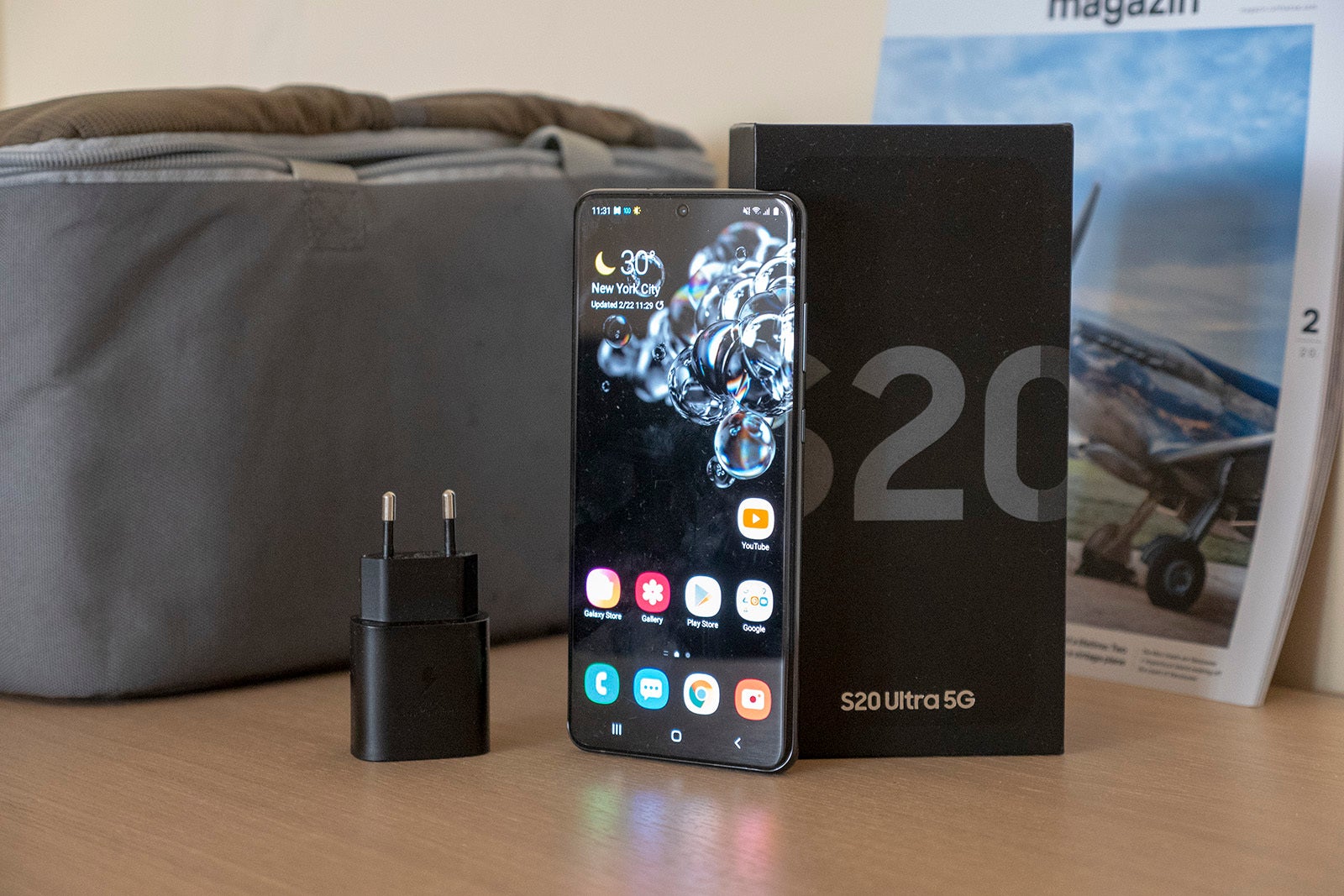 The S20 Ultra comes bundled with a 25-watt fast charger with a USB-C connection. This is the same charger as we used to have on the Galaxy Note 10 Plus last year, but what's interesting is that the S20 Ultra has a larger battery than the Ultra, yet still it somehow manages to charge up a bit faster.
Both phones finished the 0 to 100% charge test in less than an hour, with the Ultra being just a minute or so faster.
The Ultra also supports the 45-watt super fast Samsung charger. You have to buy that one separately (it costs $50) and the main benefit will be seen when you charge the phone from a completely dead battery to about 75% battery level. Towards the end of the charge period, however, the speeds slow down and the 45-watt charger finishes topping up the phone in exactly the same amount of time as the 25-watt charger.
Finally, the Ultra also supports wireless charging with speeds of up to 15 watts. Keep in mind, that not every wireless charger supports those speeds (most are slower), but Samsung has one that does. You can buy it for $80 and it also manages to charge the battery on the S20 Ultra in just 1 hour and 43 minutes. Take a look at the chart below comparing charging speeds with the different chargers: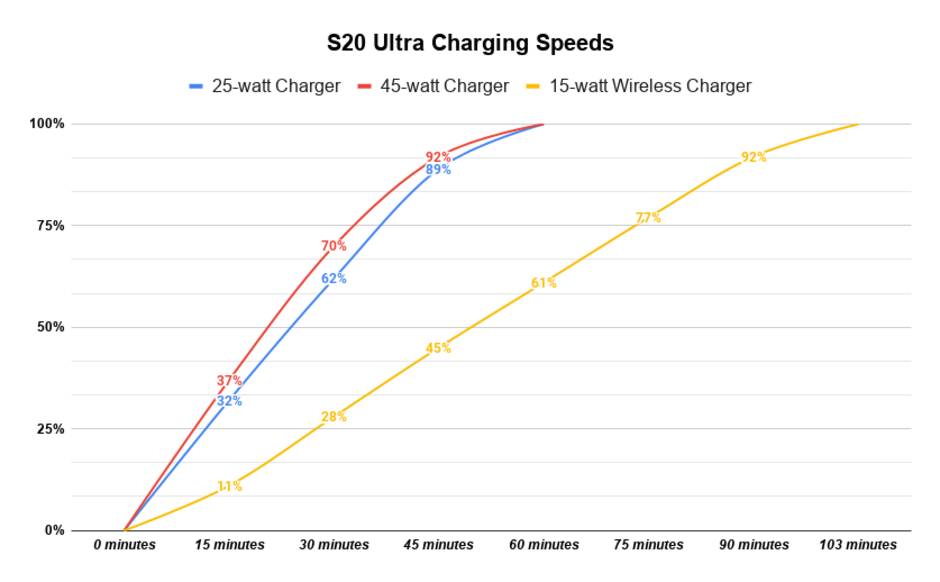 Sound and Loudspeaker Quality
Big and impressive sound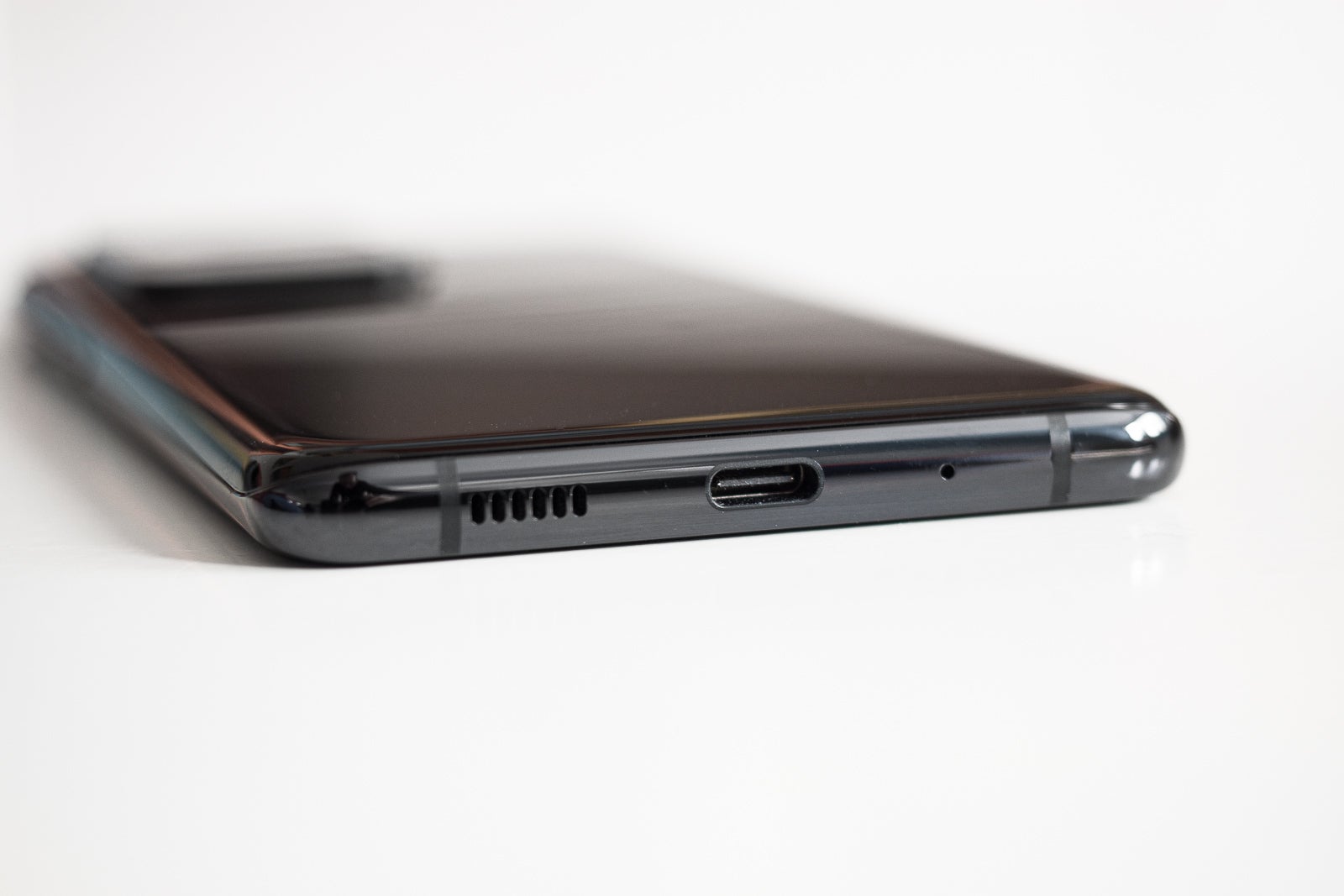 You might have missed the news, but last year something remarkable happened in loudspeakers: the Google Pixel 4 series. Google quietly brought a loudspeaker revolution with incredible quality that you are not used to hearing on a smartphone and in our blind test of about a dozen people everyone qualified the Pixel above all other flagships in terms of loudspeaker quality.
Needless to say, we were excited to see what Samsung brings to the table and indeed the S20 Ultra is a huge improvement in the way its loudspeakers sound compared to any other Samsung phone in the past. We compared the loudspeaker on the S20 Ultra against the Note 10 Plus and it blows it out of the water easily. It also easily trumps the iPhone 11 Pro Max, with a richer sound with much crisper higher tonalities.
It was thus time for the ultimate loudspeaker battle: comparing the S20 Ultra against the Pixel 4 XL, and it's a close one, but... the Pixel still has the edge. It just has a fuller sound profile with more depth and a very nice balance between the highs, mids and lows, while the S20 Ultra is just not so refined in the bass department and lacks just a tiny bit in polish, but enough to notice. So there you have it: the S20 Ultra has great loudspeakers, but not quite as good as on the Pixel 4.