Samsung Galaxy S III: design, specs and release date rumors
46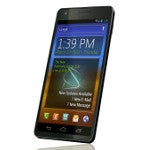 It's safe to say that last year's
Samsung Galaxy S II
became the ultimate Android smartphone of all times. The handset found its place at the very top of every Android fan's wish list, and rightfully so, as it managed to fit a large screen in a relatively compact body, as well as an outstanding processor, amazing camera and pretty much everything else that you might think of. But the Galaxy S II wasn't the hit that it was only because of its specs, though. Samsung actually managed to fit all the hardware goodies into an amazingly thin form-factor, which ultimately made the Galaxy S II stand out from the crowd of high-spec'd Android powerhouses.
We are now nearing the launch of the third Galaxy S phone, and as you can imagine, there's a lot of excitement going on. Everyone's waiting to see what improvements Samsung has made, what materials it has used for the body, how big the screen will be, what processor it to power the device, etc., etc. Of course, nothing is official yet; Samsung has somehow managed to keep this thing away from prying eyes, which is an achievement by itself. So, what we've decided to do here is to gather all the solid rumors about the Samsung Galaxy S III and try to form a fuller idea about the handset. Let's see what we've got!
DESIGN
---
The first two iterations of the Galaxy S series didn't make that much of a statement as far as looks and material quality go. The Galaxy S II's design is valued more as an engineering achievement than as a beautiful product. The Galaxy S phones we've seen until now have been entirely made of basic plastic - the typical Samsung affair. However, what we're hearing is that for the Galaxy S III, Samsung is to improve its work in the design and materials department. It's said that the manufacturer has used higher-quality materials such as ceramics for the body of the Galaxy S III. We're not sure if this would make it better than a metal or glass casing, but it would certainly be an incredible improvement over the plastic used in previous Galaxy S handsets. And who knows, the manufacturer may implement it in such a way that it could be unlike anything we've seen.
Although there isn't even an unofficial word on the dimensions of the phone, we're willing to believe that the Galaxy S III may be a bit larger in comparison to its predecessor, due to the fact that it's very likely for it to be equipped with a larger display. Here's for hoping that the difference in size won't be that substantial, since the relatively compact and very thin design of the S II was among its main advantages. Thankfully, one of the many rumors claims that the device will have a
7mm profile
, so there probably isn't too much of a reason to worry.
Just a note: the picture that you see in this post is just a mock-up and not an actual rendering of the real Galaxy S III. We have a picture of the real deal, but won't show it to you, just because... OMG, don't shoot!!! We have no picture here, it was just a joke! Jesus...
SPECS
---
Processor
Now, there's much more to talk about with regards to Galaxy S III specs, simply because there have been more leaks in this respect. And boy does the Galaxy S III shape up as an outstanding smartphone, at least in the imagination of some enterprising tipsters. But, the truth is, that a lot of the details we've heard are actually quite possible, so it wouldn't be a big surprise if Galaxy S III does indeed turn out to be a winner in the specs department.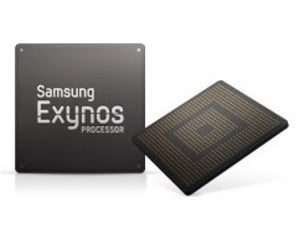 To begin with, the handset is said to pack a brand new quad-core processor, of course. More specifically, it is expected to be clocked at 1.5-1.8 GHz, which automatically means the phone will be packing quite a punch. Those who have used the Galaxy S II have their hopes set for a new Exynos processor - Samsung's own line of SoCs (System-on-Chips). In case we do see a new Exynos powering the Galaxy S III, it'll most probably be the
Exynos 4412
, which is built with 32nm technology, allowing it to deliver better power efficiency than the current dual- and quad-core offerings like the Tegra 3, all the while providing an even better user experience in terms of performance. If you'd like to learn more about this new quad-core beast of a processor, check
our article about it
!
However, as we've seen with some other top-tier devices recently, manufacturers decide to switch to a dual-core Qualcomm processor for the U.S. versions of the phone, in order to be able to include LTE connectivity. Examples for such cases are the Samsung Galaxy Note and the HTC One X. Here's for hoping that this won't happen with the Galaxy S III as well, and U.S. customers will be able to experience the full quad-core Exynos goodness... if that's the processor of choice for Samsung, of course.
Memory
When it comes to the amount of memory installed on the device, we're pretty much in the dark. Still, there is one unofficial report that points at
having 2GB RAM
on the device, which does sound pretty good. Otherwise, storage capacity will probably be 16 or 32 GB.
Screen
The rumors regarding the screen size of the Samsung Galaxy S III are claiming that it will have a diagonal of 4.5 to 4.8 inches. That would be quite an increase from its predecessor, which had a 4.3" display. Generally, we don't mind having a bigger screen, but we do mind it if that's at the expense of device dimensions. In short, if having a 4.8" screen on the Galaxy S III means having a phone significantly bigger than the Galaxy S II - thanks, but we'd rather stay with the 4.3" one. That's our personal preference, of course. The best thing would be if we have a 4.8" screen on a body that's as big as the one of the S II, but we're not really sure if that's even possible.
As far as resolution goes, obviously most sources are expecting a 720x1280-
pixel
screen, as in some recent hi-end smartphones. Some, however, are speculating that we'll see a 600x1024 screen, which wouldn't be so cool. As you might expect, there are also some contrasting speculations, promising us a real 1080x1920 display. We would rather stick to the 720p theory for now.
In terms of technology, we are expecting Super AMOLED HD, as in the Galaxy Note, which means Super AMOLED-grade quality, coupled with HD resolution and PenTile arrangement of the pixels, but wouldn't it be awesome if Samsung debuts a new Super AMOLED HD Plus technology with the Galaxy S III, which is just the same as Super AMOLED HD, but using an RGB matrix? However, there's this other report which mentions something about a new Super AMOLED III technology, developed specifically for the Galaxy S III. We'll have to wait and see, obviously.
Camera:
It is widely believed that the camera on the next Galaxy S phone will be a 12MP one. It's almost certain that it will also be complemented by an LED, or dual-LED flash, hopefully a capable one. The Galaxy S II was a great camera phone, and it also took very good 1080p video. However, we're starting to see some manufacturers paying more and more attention to the cameras of their phones, and by the looks of it 2012 will be a year when we'll see a pretty good amount of innovation in this area. The iPhone 4S has set the current standard in this respect, but we also have the Nokia 808 PureView on the way with its 41MP sensor and lossless zoom capabilities. We also have HTC who has developed a brand new technology called ImageChip that's expected to take mobile photography on the company's devices to a whole new level. These are actually the reasons why we expect Samsung to do some other innovation in its camera besides upping the resolution. Knowing the attention Samsung pays to its phone cameras, chances are we'll most probably get what we want.
On the video recording front, we expect the Samsung Galaxy S III to be capable of capturing 1080p video, same as its predecessor. However, we're willing to believe that the improvement here will be with regards to the quality of the video material.
Connectivity
Naturally, the Galaxy S III is to sport 2G, 3G and 4G connectivity, where available. It's also a no brainer that it will come with LTE support in the U.S. and in the other parts of the world that have LTE networks set up. However, as we said earlier, we do hope that the LTE version of the device will stick to the quad-core Exynos processor and won't use a dual-core solution by Qualcomm, similarly to the Galaxy Note and One X. In those areas where LTE is unavailable, the Galaxy S III will most probably deliver those beloved 4G speeds through HSPA+.
Software
By now it should be crystal clear to everyone that the Galaxy S III will be running on Android 4 Ice Cream Sandwich, which is great. It'll also have the TouchWiz user interface on top, which isn't so great. Still, we think we have an idea how Samsung might ease the pain here. The company needs to come up with a new, 5th version of its custom UI, which looks way better than what we have on the Galaxy S II. This should do it, however, whether or not Samsung has any such plans is still a mystery.
RELEASE DATE
---
We've finally reached the painful part for every Android addict. We've literally been flooded with rumors regarding the Galaxy S III release date, however, almost all of them have been proven wrong so far. Frankly, the best guess, according to us, so far is that we should expect the device in the first half of the year, or early Q3 at the latest. This is as certain as it is nonspecific. Still, South African carrier Cell C has already confirmed that it expects to have the handset
in July
, so that's probably when we should expect it. One thing we really hope for is that it won't take forever this time for Samsung to bring the handset to the U.S., as with the first and second Galaxy S.
Aaand this pretty much sums it all up, guys and gals. It's clearly visible that the Samsung Galaxy S III shapes up as a real killer handset, at least in terms of specs. For the first time though, we're also excited about the build quality of the device, having in mind that rumored ceramic body. What do you think about the Galaxy S III? What would you like to see in it? The time to share your opinion on the Android handset of the year has come!