Samsung Galaxy Round vs Galaxy Note 3 size comparison: those curves come thin
14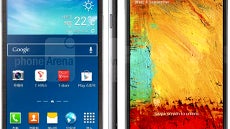 "Real women have curves," says one Dove commercial, and Samsung seems to transition that slogan to the phone industry with the newly announced
Galaxy Round
. That's precisely what the uninitiated will see in it - a handset that for some reason comes curved. Besides the
Roll and Gravity effect shenanigans
, Samsung hasn't given much thought how to utilize best the curved aspect of the display, but it's the screen tech itself that is groundbreaking here, and more uses for it are bound to come down the road.
The Galaxy Round uses Samsung's freshly announced 5.7" flexible AMOLED display, which is the thinnest and lightest panel ever to grace a handset, at just 0.12mm and 5.4 grams. This is one of the huge
advantages of those OLED screens with plastic substrates
, and we hope that the shaved-off weight and thickness will bring more compact handsets, or more place for added components in today's dimensions, which are already rather thin anyway.
That seems to be the case with the Galaxy Round, as the first phone with flexible OLED. Despite sharing almost identical size and specs with the
Galaxy Note 3
, it is sub-8mm thin and much lighter than the third Note edition - those 5.43 oz (154 g) are a remarkable achievement for a 5.7" handset no matter how you slice it. As for the promised
higher durability of the plastic substrate screen
, we'd have to see some drop tests first. We are currently probing Samsung to check whether the protective layer is plastic, like the substrate,
Gorilla
, or maybe even flexible
Willow Glass
, and will get back if any further comes our way.