Samsung Galaxy Note5 vs Google Nexus 6 vs Motorola Moto X Style: specs comparison
13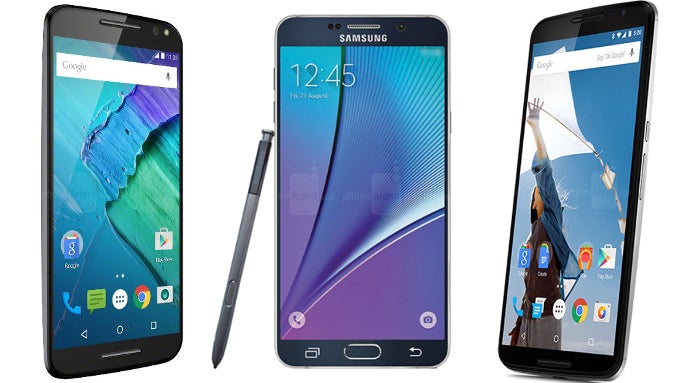 After months of rumors, leaks, and nail-biting anticipation, Samsung's shiny new phablet warrior, the
Galaxy Note5
, has been unveiled. As usual, it brings a pristine, sharp 5.7" AMOLED display, the proprietary S-Pen, and is dressed in Samsung's premium design language seen on the
Galaxy S6
and
S6 edge
.
The prestige looks came at a cost, however, as Sammy stripped down some fan-favorite features, such as the IR blaster, user-removable battery, and microSD memory expansion slot. Will the glass sandwich and shiny, shiny looks manage to outweigh these losses in the eyes of the consumers? Only time will tell.
However, the Note5 is not all about pretty looks – it, naturally, packs bleeding-edge hardware under its hood, easily positioning itself as a phablet of the year candidate – at least on first look. However, there are quite a few interesting flagships floating out there at the moment – both in the regular-sized and phablet fields. So, let's check out how the Note5's hardware measures up when compared to two other unorthodox offerings – Google's gargantuan
Nexus 6
and Motorola's surprising
Moto X Style
!
AMOLED
Super AMOLED
IPS LCD
Scratch-resistant glass, Ambient light sensor, Proximity sensor
Scratch-resistant glass, Ambient light sensor, Proximity sensor
Scratch-resistant glass, Ambient light sensor, Proximity sensor
Qualcomm Snapdragon 805 APQ8084
Samsung Exynos 7 Octa 7420 (14 nm)
Qualcomm Snapdragon 808 MSM8992
Quad-core, 2700 MHz, Krait 450
Octa-core, 2100 MHz, ARM Cortex-A57 and ARM Cortex-A53, 64-bit
Hexa-core, 1800 MHz, ARM Cortex-A57 and ARM Cortex-A53, 64-bit
Adreno 420
Mali-T760 MP8
Adreno 418
64GB
64GB, not expandable
64GB
Android (7.1 Nougat, 7.0 Nougat, 6.0 Marshmallow, 5.1 Lollipop, 5.0 Lollipop)
Android (7.0 Nougat, 6.0 Marshmallow, 5.1 Lollipop), Samsung TouchWiz UI
Android (7.0 Nougat, 6.0 Marshmallow, 5.1 Lollipop)
Qualcomm Quick Charge 2.0
24.00 hours
the

average

is 11 h (660 min)
13.8 days (330 hours)
the

average

is 29 days (688 h)
22.00 hours
the

average

is 0 h (0 min)
Single camera
Single camera
Single camera
16 MP (OIS, PDAF, CMOS image sensor, BSI sensor)
Aperture size: F2.0
Aperture size: F1.9; Focal length: 28 mm; Sensor size: 1/2.6"; Pixel size: 1.12 μm
Aperture size: F2.0; Focal length: 27 mm; Sensor size: 1/2.4"; Pixel size: 1.1 μm
3840x2160 (4K UHD) (30 fps), 1920x1080 (Full HD) (30 fps), 1280x720 (HD) (30 fps)
3840x2160 (4K UHD) (30 fps), 2560x1440 (QHD), 1920x1080 (Full HD) (60 fps), 1280x720 (HD), 640x480 (VGA)
3840x2160 (4K UHD) (30 fps), 1920x1080 (Full HD) (60 fps)
OIS, Continuous autofocus, Object tracking, EIS, Video calling
HDR, Continuous autofocus, EIS, Video calling
6.27 x 3.27 x 0.40 inches (159.26 x 82.98 x 10.06 mm)
6.03 x 3.00 x 0.30 inches (153.2 x 76.1 x 7.6 mm)
6.06 x 3.00 x 0.44 inches (153.9 x 76.2 x 11.06 mm)
6.49 oz (184.0 g)
the

average

is 6 oz (171 g)
6.03 oz (171.0 g)
the

average

is 6 oz (171 g)
6.31 oz (179.0 g)
the

average

is 6 oz (171 g)
Back: Glass; Frame: Metal
Back: Plastic
Splash
Splash, Dust; IP52
Stylus, Touch sensitive control keys