Samsung Galaxy Note II vs Galaxy S III vs LG Optimus 4X HD benchmark comparison
23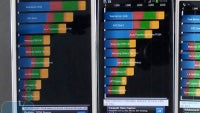 The new
Samsung Galaxy Note II
features a quad-core Exynos 4412 processor with ARM Mali-400 graphics subsystem, which is clocked a step higher, at 1.6GHz, compared to the same chip we find in the
Galaxy S III
, which is clocked at 1.4GHz.
We wanted to check out quickly who's boss when it comes to cold hard benchmarking, and staged a three-way fight with the other quad-core processor on the market - NVIDIA's Tegra 3, as found in the
LG Optimus 4X HD
.
Now, this is not quite the fair fight, considering that there is a generational gap in the 32nm manufacturing of Samsung's Exynos 4412 processor, and the 40nm process used for Tegra 3, but LG's handset held its own in Quadrant and AnTuTu just fine. It bungled the Vellamo benchmark, which is admittedly done for testing Snapdragon processors, and favors instruction sets like the ones in the Exynos family, too.
The LG Optimus 4X HD also fared much worse than Samsung's handsets in the browsing benchmarks, though, which has something to do not only with the processors, but also with the heavy optimizations in Javascript rendering that Samsung introduced with its homebrew Android browsers since the launch of the S III. Overall, the Note II maintained a lead throughout the four benchmark tests we put those three handsets through, and in browsing benchies its performance is neck and neck with the
sets measured from the iPhone 5
, making those two the fastest handsets for browsing out there.