Samsung Galaxy Gear now lets you view Gmail, tweets and more
12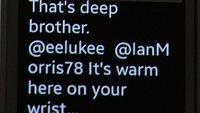 If you own a Samsung Galaxy Gear smartwatch, you should be receiving soon (if it didn't already arrive) a useful update for your smartwatch. The update will allow owners of the timepiece to receive notifications of new Gmail messages, tweets and more. You will be able to read Facebook messages, tweets, Hangout messages and Gmail up to a certain length. If you want to read the entire message, you will have to go to the phone.
The update also includes Smart Relay improvements, which makes it easier to jump from your watch to your phone. Also updated is the lift and pause gesture that activates the clock. And while it is great to read partial emails and tweets from your wrist, there are still some things that need to be worked out. When three Gmails arrived at the same time, the watch merged the three notifications into one.
Despite a few bugs, Galaxy Gear owners should be happy to have these new capabilities for their smartwatch. After all, checking out messages from your social networks was probably one of the features that you hoped the device came with out of the box. Sadly, it didn't. But thanks to today's update, now it does.
source:
Pocketlint