Samsung may be first with a true 5G chipset, while Apple still shops for modem engineers
13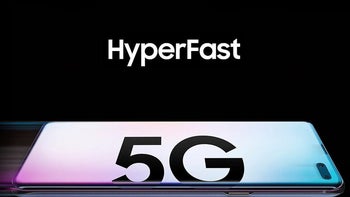 Given that the
Galaxy Note 10
is expected to come in no less than
four different versions
, separated by screen sizes and 5G availability, it's obvious that Qualcomm will be keeping its
X50
and
X55
modems separate from its Snapdragon chipsets for a good while still.
Even the next-gen
Snapdragon 865
processor that is supposed to go into 2020 spring chickens like the
Galaxy S11
, is said to still
launch in two versions
- with and without 5G connectivity - skipping on the integration part. Thus, the earliest we may see a true 5G chipset with an integrated Qualcomm modem may be as far off as
Apple's 2020 iPhones
.
Samsung plans on being first with a real 5G chipset
Samsung, however, is preparing to take advantage of that limbo,
reports
Korean media today, and is speeding up the development of the first 5G system chip on the market, likely within the Exynos line of processors. The head of Samsung's LSI division that develops Exynos tipped today that "
Samsung has commercialized 5G modem chipsets last August... we plan to launch 5G mobile SoC soon,
" during Korea's ongoing TechWeek conference.
How soon? Well, probably by the end of the year, which would put it ahead of the competition like Qualcomm or MediaTek that also has integrated chipsets in the works. With Huawei largely out of the picture due to the ongoing trade war between US and China, Samsung may swoop in to capitalize on the delay that is happening with its mobile chip-making competition.
The reason we have extra "Pro" or "5G" versions of each and every major handset this year, is because the current generation of 5G modem and antenna kits come separate from the system-on-a-chip (SoC) that makes the phones tick. Those extra components, albeit very small, still need extra space, cooling, interference isolation and so on, to the point where the Pro models are usually bulkier, heavier, with larger batteries and with much higher pricing than their 4G-capable counterparts.
Think Galaxy S10 and S10 5G, for instance, the 7 Pro and Pro 5G, or even the LG G8 and V50. They all come with extra girth and 20-30% higher prices compared to the base models, and the lack of true integrated 5G SoC may be to blame. Well, Samsung is planning to change all that, and we can't wait to see what it has in store for the mysterious flagship that it is preparing to release later this year - no, not the Note 10, but something unique akin to the Galaxy Fold, if the rumors hold water in the end.
Apple plans on building a 5G chipset at some distant point
While Apple settled its patent and royalties dispute with Qualcomm, and the companies entered a multi-year wireless modem supply arrangement, the writing is on the wall. There's plenty of bad blood between the companies, and Apple wouldn't want to be left behind again due to the squabbles with Qualacomm again. Given that Huawei's mobile future is cloudy, Apple has to either diversify with the archenemy Samsung which already supplies too many components in an iPhone, or go it alone.
In fact, that last route may be exactly what may have prompted Apple to
bid for the assets of Infineon
. They are a German wireless modem designer that got acquired by Intel for $1.6 billion a few years back with the goal to help develop Intel-branded 4G and 5G modems. Apple had a short
love affair with Intel
on said modems during its Qualcomm penalty box period, but when the
legal dust settled
, Intel gave up on the 5G modem development idea altogether as it was about to lose its only big customer for it. According to
The Information
:
Apple is in talks to buy a key part of Intel's smartphone modem business - its German operations - in a deal that could boost the iPhone maker's plans to internally develop a modem for its devices, according to four people briefed on the discussions.
What Apple would actually be going after in an eventual Infineon deal would be the Germans' patent portfolio and its modem engineers. Those would be enough to set a dedicated 5G modem division within Apple, and, given the company's considerable resources, it might very well succeed in weaning itself off its dependence on Qualcomm or other modem players at some point.
Creating a 5G chip from scratch is a daunting task, however, much more so than developing a mobile chipset. If Apple manages to snatch Infineon, and pack its own 5G modem with its A-series processors that would be a dream come true for it, but it's not happening in the
foreseeable future
.