Foldable Surface device tipped for 2020 with 9-inch screen and support for Android apps
3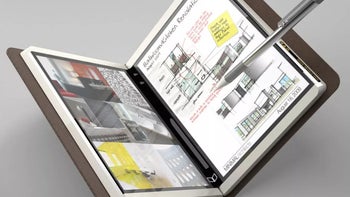 Based on information obtained from his supply chain sources, IHS Markit Associate Director Jeff Lin told Forbes that the foldable Surface will have a 9-inch screen when opened. Lin also said that it will be powered by Intel's 10nm Lakefield SoC and will run a new version of Windows 10 called WCOS (Windows Core OS) with a dual display UI. The device will have an always-on connectivity feature (LTE or 5G). But perhaps the biggest news is that the foldable Surface will run Android apps and iCloud in Windows 10.
Earlier this month,
The Verge reported
that Microsoft has been showing off a dual-screened Surface device inside the company. A video teaser was played and long lines of employees formed inside Microsoft headquarters to get a look at the product, which is said to have a code name of Centaurus. The Verge says that the foldable will look more like Microsoft's previous Courier tablet concept (seen at the top of this story) than the images of the Andromeda device that we showed you last year.
The foldable segment of the mobile device market is not off to a good start. The
Samsung Galaxy Fold
, originally set for an April 26th launch, is delayed indefinitely and the release of the
Huawei Mate X
has been pushed back to September.