New Surface Phone renders show the rumored device in laptop and gaming modes
26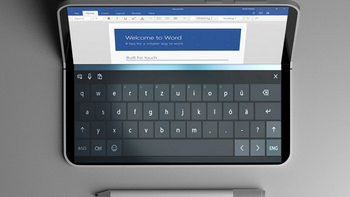 If you're one of those people who doesn't believe in the tooth fairy, unicorns, supply-side economics, Santa Claus and the Surface Phone, it appears that you can scratch the last item off the list. Over the last few days, it has become apparent that the device codenamed Andromeda is indeed a foldable Surface device that very well could be the long awaited phone.
Today, Mr. Breyer has sent out a tweet showing some new renders based on two modes for the Surface Phone. The device is expected
to show different UIs on the two screens depending on the mode being employed
, and Breyer's render of laptop mode shows a virtual QWERTY keyboard on the bottom screen. In gaming mode, the bottom display has virtual Xbox controls while the game being played is viewed on the top screen.
The Surface Phone is expected to be released some time later this year as Microsoft is looking to get its foldable form factor out in the marketplace before Samsung. The latter is expected to
unveil its Galaxy X at MWC 2019 in February
.