Rugged CAT S50c Android phone available for Verizon subscribers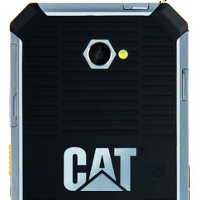 Built by the U.K.'s Bullitt Group using a license from Caterpillar, CAT phones have typically been rugged handsets that can live through drops, falls, exposure to liquids and more. Now comes word that the CAT S50c is being made available to Verizon subscribers, giving them the opportunity to purchase a handset that they can use on construction sites or on other rough terrain without worrying that the phone will break.
The CAT S50c will also be protected against extreme temperatures, humidity, thermal shocks, salt mist, water and dust. Besides construction workers, the device is perfect for first responders and athletes who partake in extreme sports. The device features a Gorilla Glass protected 4.7-inch screen with a 720 x 1280 resolution. The screen can be used by those wearing gloves, or even when the display is wet from rain or snow. A quad-core 2.0GHz CPU is under the hood with 1GB of RAM and 8GB of native storage. A 64GB capacity microSD slot is available for those seeking additional storage and the 2630mAh battery keeps the phone powered for a full day. Thanks to the push-to-talk feature, you can turn the unit into a walkie-talkie to have one to one conversations.
Mil Spec 810G certified, the phone will not break if dropped from 3.9-feet or less. It also can be submerged in up to 3.3 feet of water for as long as 30 minutes, and emerge unscathed. That's because the CAT S50c features IP67 certification. The phone is also impervious to dust.
The CAT S50c is currently available as a Verizon exclusive through catphones.com, amazon.com and homedepot.com. It can also be purchased from Ingram Micro's Verizon agents, priced at $400.
If you're looking for a phone that you can count on to be working under all conditions, you might want to take a look at the CAT S50c. With its rugged design, it just might have more than nine lives.
source:
catphones
via
FierceWireless