Report says that new Apple iPad sales are sluggish after that strong start
95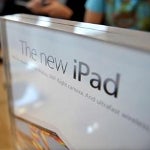 Perhaps the fact that the new Apple iPad
wasn't sold out in brick and mortar stores on launch day
was a clue. Even the
lack of long lines that had become a hallmark of Apple launch days
should have been seen as a sign that something was different this time. Sure, Apple said
it sold a record 3 million units during the launch weekend
, and
pre-order inventory was sold out
, but this third iteration of Apple's tablet doesn't seem to have the legs that the Cupertino based tech titan's mobile devices usually sport.
According to a report from
Want China Times
, Foxconn employees are reporting a
major slowdown in the production of the new iPad
. One employee, who works on the tablet's assembly line in Shenzhen, noted that in February workers received overtime as production of the iPad moved into high gear with 150 to 180 units assembled per hour. In March, the Foxconn employee said that things slowed down quickly and sometimes workers wouldn't even get in 5 days of work during a week. He claims to have had 10 days off last month himself due to a slowdown in sales of the device. This lack of sales also led to the shutdown of 3 of the 20 assembly lines dedicated to the tablet. Those lines are now producing a new product entirely.
The slowdown in Apple iPad sales has also affected "scalpers" in Hong Kong, according to the Chinese paper. Instead of the 30% margins they usually get from hawking Apple devices, the word is that they are
feeling "overstocked"
and are unable to secure those juicy profits like they have in the past.
Are we in the midst of a seminal change in Apple's fortunes, or is this merely a Foxconn employee blowing off steam? Either way, we won't know for sure just how well or how poorly the new Apple iPad is selling until Apple's next quarterly report.
source:
WantChinaTimes
via
AndroidAuthority