Report: SMS messaging on the decline, replaced by messages sent via Facebook
6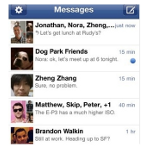 "Many operators are seeing an increasing number of customers moving their SMS traffic over to Facebook, resulting in their SMS cash cow getting thinner and thinner."-Strand Consult
A report issued Friday by telecommunications consulting firm
Strand Consult
, says that based on the amount of minutes that smartphone users are spending on Facebook,
they are sending out more messages via the social network site than they are via texting
. In its report,
Strand Consult
says that it is seeing this trend in countries like Denmark and Norway where fewer text messages are being sent out by customers of mobile carriers who instead are spending more time on Facebook. Still, this seems to be a global trend. The report says that about 425 million people around the world access Facebook on a mobile device and, "
Measured in minutes of use, Facebook probably transports more mobile traffic, number of messages and time spent online than the world's largest operator

."

The trend toward sending out fewer texts has been seen in other reports dealing with other countries. Cell phone users in the Philippines, which is one of the top texting countries,
averaged 400 texts a month last year
which was down from the average of 660 monthly texts sent in 2010. That report was released by independent mobile analyst Chetan Sharma who said the increasing use of Internet messaging services like Skype, iMessage and Google Voice was the reason for the declining use of text messaging in the country. Based on figures we told you about in March, it would seem that
U.S. teenagers are immune to this new trend
. A report from Pew Research Center showed that the average U.S. teen was sending 60 texts a day, up from 50 in 2009. That figure was based on a survey of 799 teenagers aged 12 to 17.
Strand Consult
writes in its report that carriers can still keep their SMS revenue even though such messages are giving way to Facebook. Denmark carriers charge its customers a flat rate of 3 EUR to 6 EUR a month for text messaging as part of the monthly data subscription. Since the charge folds right into the monthly invoice, the carrier continues to receive the same revenue it has in the past even though many are sending fewer SMS messages. Mobile customers in the country are blinded by the flat rate and the report says that they never question whether they actually need the SMS package and
assume that such messaging is free
. While in Denmark consumers continue to pay the same amount of money for SMS service, they are actually using it less and using Facebook more for messaging. Perhaps that is the basis for the famous statement that "
something is rotten in the state of Denmark
."
source:
StrandConsult
,
NYTimes
via
Texually.org