The day of a teen: 60 texts on average
6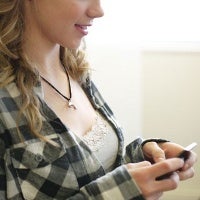 Teens today are texting even more than they did only a couple of years ago. Yes, we too, didn't think it was possible, but now
the average US teenager sends 60 text messages every single day
. In 2009, that number stood at
"only"
50 texts.
The revealing results come after a survey of 799 US teenagers ages 12 to 17 years old carried out by Pew Research Center.
Overall, an overwhelming 75% of US teens text.
"Teens are fervent communicators. Straddling childhood and adulthood, they communicate frequently with a variety of important people in their lives: friends and peers, parents, teachers, coaches, bosses, and a myriad of other adults and institutions," senior research specialist with the Pew Internet Project Amanda Lenhart wrote in the report.
63% of teenagers text every day and that's obviously the preferred way of communication. 39% talks on their phones and 35% pick face-to-face conversations. Social networking is the medium 29% of teens use.
While the youth of the nation still call each other, they do it less frequently than before. 20% say they're on the phone with friends and peers every day, down from 38% three years ago.
Interestingly, older teen girls are the most passionate texters sending an average of 100 messages a day. Boys in comparison send "only" 50 messages daily on average. What do you think about the survey, are teens in your view texting more and talking less?
source: Pew Research via
PCMag