Report: Motorola Mobility to lay off employees after Google deal closes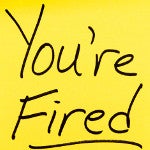 The other day, we told you that the lone hold out, China, had
finally approved Google's acquisition of Motorola Mobility
. An 8-K SEC form filed by Motorola says
the deal will close in two days
. Now comes word from
Tech Crunch
that they have been told by a source that a "listening tour" comes next with Google's big wigs flying out to Motorola Mobility's factories and offices to see what everyone does and then making decisions.
Tech Crunch
, it sounds like Google has already decided what to do with some of MM's employees as layoffs are supposedly set to occur "
imminently
". How many Motorola Mobility employees will be getting a pink slip is unknown, but when Google purchased the much smaller DoubleClick, it cut headcount by 40%. Motorola Mobility had 19,000 employees when Google announced the deal (DoubleClick only had 1,600) and had already laid off 800 people last October in a move
totally unrelated to the Google purchase
. According to Motorola Mobility, the layoffs were part of a wider restructuring.
With Motorola Mobility Sanjay Jha stepping down once the deal closes, Google is
expected to replace him with Dennis Woodside
. The Mountain View based firm had put Woodside in charge of the merger and it would make sense to have him take over from Jha. Google has said that it
wants Motorola Mobility to be independent from its own operations
which shouldn't be too hard to do considering that the main impetus to make the deal was to acquire Motorola Mobility's 17,000 patents,
regardless of what Eric Schmidt has said
.
source:
TechCrunch