Eric Schmidt: We bought Motorola for more than patents
51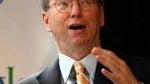 Speaking at the Dreamforce conference in San Francisco near the end of last week, Google Chairman and former CEO Eric Schmidt made it clear that the purchase of Motorola by the Mountain View based form was for
more reasons than just to buy a huge portfolio of patents
. On stage during the conference, Schmidt said, "
We did it for more than just patents. We actually believe that the Motorola team has some amazing products coming
," and went on to add that, "
We're excited to have the product line, to use the Motorola brand, the product architecture, the engineers. These guys invented the RAZR. We know them well because they're Google Apps users
."
Besides raving about the engineers that developed the RAZR, Schmidt had some not so kind words about the state of the U.S. patent system
which he said is in need of an overhaul
. His solution? Take patents as they are published and crowdsource them. He adds that the best way to deal with these patent battles is to publish patents publicly and then let the public comment to see if there is any prior art. Of course, as Schmidt pointed out, this is illegal. He also added that legislature in the Senate that he hopes will pass this year, will provide more funds for the patent office and also allow them to kick out bogus patents faster than they get rejected at present.
source:
BGR
,
TechCrunch