Report: LG G4 to be priced higher than Samsung Galaxy S6, lower than Galaxy S6 edge
50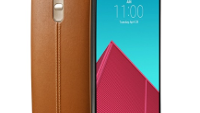 As we get closer to the April 28th media event
at which LG will unveil its new flagship model
, we are still in the dark when it comes to pricing of the handset. But some light has now been placed on the subject. A report published on Thursday suggests that in South Korea, LG will price the
LG G4
at a range in between the Korean retail price of the
Samsung Galaxy S6
and
Samsung Galaxy S6 edge
. This would mean that the handset will be priced in the country somewhere in between $795 USD and $910 USD.
In South Korea, where the LG G4 can be pre-ordered from SK Telecom, KT and LG U+ for $825, howling noises were heard coming from prospective LG G4 buyers in the country once they realized that LG's new flagship was priced higher than the $795 USD charged for the 32GB Samsung Galaxy S6.
Korea's Economic Times quoted an LG official who said that while the pricing was not set in stone, it will remain in between the pricing range of Samsung's flagship handsets. And while our math skills might have eroded with age, this means that the LG G4 will be priced above the 32GB Samsung Galaxy S6 no matter how you slice it. The LG official quoted by Economic Times said that this is because the manufacturer considers the LG G4 to be more like the premium priced Galaxy S6 edge than the Galaxy S6.
With the natural leather back on the LG G4, the 16MP f/1.8 rear camera, and one-year free screen repair, LG is looking at its flagship as being a premium model that deserves a premium price. Still, it might be difficult for LG to keep the LG G4 priced above the Galaxy S6. The latter is considered the best smartphone ever produced by Samsung and South Korean smartphone buyers might not see any reason to pay $30 USD more for the G4.
We should learn more about pricing in other markets, including the U.S., when the LG G4 becomes official next Tuesday.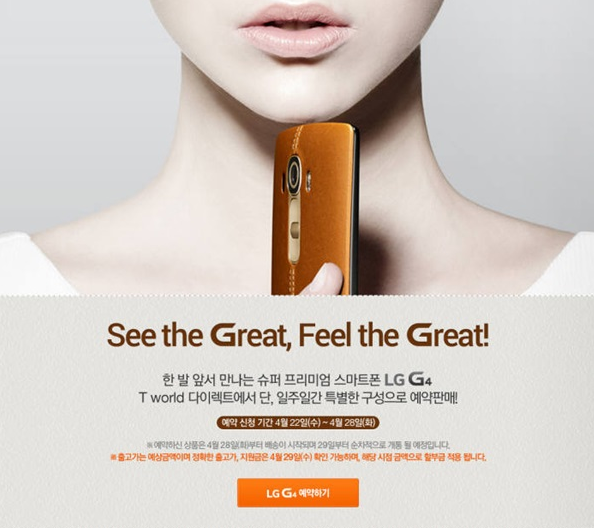 The LG G4 will be priced higher than the 32GB Samsung Galaxy S6 in South Korea
Thanks for the tip!
source:
ETNews
via
GforGames