Replacement Samsung Galaxy Note 7 explodes in Taiwan while user was walking her dog?
99+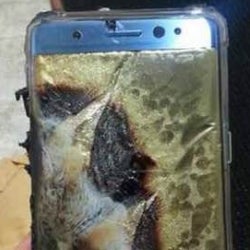 Every day seems to get Samsung
closer to another recall for the Galaxy Note 7
. This time,
it would be the replacement Galaxy Note 7 units that would be sent back to the manufacturer
, sporting the supposedly safe battery. Yesterday, a report from Bloomberg suggested that AT&T is almost ready to wash its hands of the whole Galaxy Note 7 affair, and
could decide to stop selling the phablet.
The latest negative news story involving the "safe" Galaxy Note 7 comes out of Taiwan where a 26-year old woman was walking her dog in a park. The woman, who carries the surname Lai, noticed that her 10-day old replacement Samsung Galaxy Note 7 model was sending out smoke signals. Quickly, she pulled the device out of her pants pocket and threw it on the ground, waiting for the smoke to clear.
Ms. Lai had originally purchased the Samsung Galaxy Note 7 in August, and exchanged the phone for a replacement model on September 27th. Speaking about the incident, she said that she had heard a bang followed by the sensation of heat on her buttocks. Once she had pulled the handset out of her pocket, smoke filled the air.
Today, Samsung Taiwan released a statement saying that it was trying to reach the customer so that it could do some research on the damaged phone in an attempt to figure out what happened to it. Samsung Taiwan also said that it would have to look at the damaged phone in more depth to determine if it was indeed a replacement unit.
This follows an incident that took place last Wednesday
when an alleged replacement Galaxy Note 7 unit exploded inside a Southwest Airlines jet
; passengers had started boarding the plane for the flight from Louisville to Baltimore when the handset caught on fire. If an investigation determines that the phone that burned the carpet on the Southwest jet was indeed a replacement model, it could quite possibly lead to a second recall of the phone.
source:
FocusTaiwan