Razer Phone vs Galaxy Note 8 vs LG V30: specs comparison
21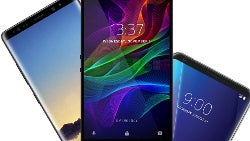 So, Razer has first dropped its first handset – the... well, the Razer Phone. A super-powered handset that's supposed to please gamers, or users that just demand the best possible performance on an Android device. But the Razer Phone doesn't have any sort of exclusive chip, like the Nvidia Tegra that was in the
Nvidia Shield
before it. In fact, it comes with the "mainstream" Qualcomm Snapdragon 835 — the flagship SoC that's on most top-tier phones out there right now.
So, what does Razer have more than the competition? Well, stereo speakers will probably enhance mobile gaming experience, the design favors dual-hand operation in landscape mode for prolonged periods, 120 Hz refresh rate on its Ultramotion display for super-smooth animations and response, you've got 8 GB of RAM on board, which is just insanely over the top right now, and a rather huge 4,000 mAh battery.
Looking at the most-popular, top-tier Android phones that were recently released — the
LG V20
and the
Galaxy Note 8
— we've got 4 GB and 6 GB of RAM, respectively, 3,300 mAh batteries, no stereo speakers, and the "standard" 60 Hz displays. Of course, the LG V20 has its quad-DAC, which might attract audiophiles, and its enhanced
photo- and video-editing features
, while the Note 8 has its
S Pen and productivity apps
and features that are tied to it. So, while the Razer Phone looks like it excels when it comes to raw power, the other two devices have their own quirks to set them apart. Which one would you go for?
Super AMOLED
P-OLED
IPS LCD
HDR support, Scratch-resistant glass, Ambient light sensor, Proximity sensor
HDR support, Oleophobic coating, Scratch-resistant glass, Ambient light sensor, Proximity sensor
Scratch-resistant glass, Ambient light sensor, Proximity sensor
Qualcomm Snapdragon 835 MSM8998 (10 nm)
Qualcomm Snapdragon 835 MSM8998 (10 nm)
Qualcomm Snapdragon 835 MSM8998 (10 nm)
Octa-core, 2350 MHz, Kryo 280, 64-bit
Octa-core, 2450 MHz, Kryo 280, 64-bit
Octa-core, 2450 MHz, Kryo 280, 64-bit
Adreno 540
Adreno 540
Adreno 540
Android (8.0 Oreo, 7.1 Nougat), Samsung Experience UI
Android (9.0 Pie, 8.0 Oreo, 7.1 Nougat), LG UX UI
Android (9.0 Pie, 8.1 Oreo, 7.1 Nougat)
Qualcomm Quick Charge 2.0
Qualcomm Quick Charge 3.0
Qualcomm Quick Charge 4+
22.00 hours
the

average

is 17 h (996 min)
16.50 hours
the

average

is 17 h (996 min)
15.2 days (365 hours)
the

average

is 0 days (0 h)
3G: 12 hours; LTE: 13 hours; Wi-Fi: 14 hours
Dual camera
Dual camera
Dual camera
16 MP (OIS, Laser and PDAF)
Aperture size: F1.7; Focal length: 26 mm; Sensor size: 1/2.55"; Pixel size: 1.4 μm
Aperture size: F1.6; Focal length: 30 mm; Sensor size: 1/3.09"; Pixel size: 1 μm
Aperture size: F1.8; Focal length: 25 mm; Sensor size: 1/2.6"; Pixel size: 1.4 μm
12 MP (Telephoto, OIS, Autofocus)
13 MP (Ultra-wide)
13 MP (PDAF)
Optical zoom: 2.0x; Aperture size: F2.4; Focal Length: 52 mm; Pixel size: 1 μm
Aperture size: F1.9; Focal Length: 12 mm; Sensor size: 1/3.4"; Pixel size: 1 μm
Optical zoom: 2.0x; Aperture size: F2.6; Sensor size: 1/3.4"; Pixel size: 1 μm
3840x2160 (4K UHD) (30 fps), 1920x1080 (Full HD) (60 fps), 1280x720 (HD) (240 fps)
3840x2160 (4K UHD) (30 fps), 1920x1080 (Full HD), 1280x720 (HD) (240 fps)
3840x2160 (4K UHD) (30 fps)
Time-lapse video, Hyperlapse, Continuous autofocus, Object tracking, Picture-taking during video recording, Video light, EIS, Video calling, Video sharing
HDR, Time-lapse video, Continuous autofocus, Object tracking, EIS, Video calling, Video sharing
Video calling, Video sharing
8 MP
5 MP
8 MP
1920x1080 (Full HD)
1920x1080 (Full HD)
6.40 x 2.94 x 0.34 inches (162.5 x 74.8 x 8.6 mm)
5.97 x 2.97 x 0.29 inches (151.7 x 75.4 x 7.39 mm)
6.24 x 3.06 x 0.31 inches (158.5 x 77.7 x 8)
6.88 oz (195.0 g)
the

average

is 6.5 oz (184 g)
5.57 oz (158.0 g)
the

average

is 6.5 oz (184 g)
6.95 oz (197.0 g)
the

average

is 6.5 oz (184 g)
Back: Glass (Corning Gorilla Glass 5); Frame: Aluminum
Back: Glass (Corning Gorilla Glass 5); Frame: Aluminum
Back: Aluminum
Water, Dust; IP68
Water, Dust, Shock; IP68; MIL-STD-810 certified
Iris scanner, 2D Face unlock, Fingerprint (touch)
2D Face unlock, Fingerprint (touch)
Fingerprint (touch)
Notification light, Stylus