RIP: HTC Evo Shift 4G and White HTC EVO 3D
9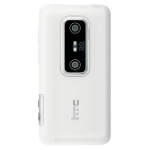 A leaked list of upcoming Sprint handsets about to go EOL shows that both the
HTC EVO Shift 4G
and the
white HTC EVO 3D
are about to be taken off life support and allowed to die. The former is dated with its 3.6 inch touchscreen and the single-core 800MHz processor driving the phone. The LG Doctors will be pulling the plug on the device in the middle of next month. That is the same time that the plug will be pulled on the white version of the HTC EVO 3D. It is only the white variant of that model that is going EOL as the
original black version of the handset is not affected
and both the white and black models will still be getting updated to Android 4.0.
ghostly looking version
of the model?
So what will Sprint replace the HTC EVO Shift 4G with? To answer that question, we need to see what new handsets
LG introduces at MWC 2012
next week. Will there be a new side-sliding QWERTY smartphone? For the answer to this and other questions you might have, stay with us during MWC 2012, which starts this Sunday. We will be in Barcelona to give you the best and most complete coverage of the expo.
source:
SprintFeed