RIM patent stops texting while driving while forcing it at the same time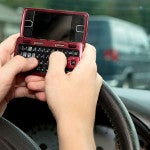 Texting while driving
has become a major black mark on the entire mobile device industry
. No matter how many warnings a manufacturer puts on the protective plastic covering over the display,
the message is not getting through
. Even
putting brochures inside the box
doesn't seem to make a difference. Television ads and billboards try to shock drivers into putting away their handset while behind the wheel. All of these attempts have not worked because they all rely on the driver to do the right thing. The only way to stop drivers from texting is to
take the decision out of their hands
.
block a driver's phone from sending or receiving radio signals
. As we told you, a low powered radio jammer would be able to block the driver of a vehicle from receiving and sending out messages while
allowing others in the car to do as they wish
. Back in 2009, RIM seemed to have another solution. It was three years ago when the Canadian manufacturer of BlackBerry devices filed a patent application that has just recently been granted by the USPTO for a technology that prevents the user of a device from writing a message,
as long as the phone is moving at a certain rate of speed
.
While this certainly sounds like a great idea, in typical 'RIMsian' fashion, there is a major drawback to the whole thing. The problem with this idea is that to override the lockout, the driver needs to answer a CAPTCHA challenge which means having to type out a word while presumably driving a vehicle, thus forcing the device's user into
doing the very thing that the patent is designed to prevent
. It's a Catch 22 situation and probably explains why we haven't seen this on any BlackBerry model.
source:
USPTO
via
Engadget