AT&T starts campaign to warn people about texting while driving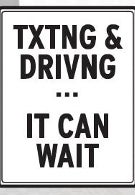 AT&T is starting a national campaign today that uses true stories to illustrate the dangers of texting while driving. Aimed at all drivers with a special nod to the younger motor vehicle operators, the spots show a real text message that was sent or received just moments before a life was altered or ended because of texting and driving. In one example, a text message saying "Where u at?" is superimposed on the screen while a mother says, "This is the text my daughter was reading when she drove into oncoming traffic." The ad includes the message that "No text is worth dying over" and concludes with the campaign's tag line, "Txtng and driving...It Can Wait"
Cathy Coughlin
, senior executive VP and global marketing officer for AT&T, said that many different concepts were looked at, but it wasn't until everyone went around the room, reading the last text that they had received and whether or not the message was worth the risk of driving 65mph while reading, that the campaign finally took shape.
The campaign will be seen within months on television ads, online, in print and heard on radio. In addition, parents, high school guidance educators and teens can visit AT&T's online resource center by clicking on this
link
. The carrier has also started a Facebook app to help others pledge not to text and drive. The address is www.facebook.com/att. AT&T will promote the pledge through a "twitition" on Twitter. You can follow this at @ShareATT. While the network operator says that the message is for all drivers, it is aiming at younger drivers and will contribute $250,000 to one or more non-profit organizations focused on youth safety.
source:
AT&T