Study shows texting while driving raises accident risk more than expected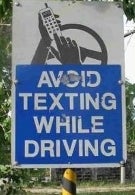 It certainly is a no-brainer to warn that driving while texting increases the risk of a collision. But what will make your ears perk up is that a new study shows that those who text while driving increase the chance that they will be involved in an accident by an amazing 23 times compared with those who drive without sending a message. The latest research is based on a test sponsored by the Virgina Tech Transportation Institute. Video cameras were placed in the cabs of long-haul trucks over a period of 18 months. The test also revealed that in the moments before a crash or a near crash, the distracted driver spends about 5 seconds looking at their handset, which is enough time to travel more than 100 yards at average speeds. While those stats are based on the tests using the long-haul trucks which take longer to stop than cars, most drivers will have the same behavior as the 100 truckers involved in the test. The researchers involved with the test said that truckers do not text any more or less than the average automobile driver.
It cost $6 million dollars to do the research, including setting up the video cameras in the trucks and track them for 3 million miles as they hauled items such as frozen food, furniture and other products around the country. Tom Dingas, director of the Virginia Tech Institute, one of the world's larget researchers in vehicle safety, said that texting while driving should be made illegal. Currently, it is against the law to text and drive in 14 states including Alaska, California and New Jersey. The huge increase in sending texts has made this a major problem. This past December alone, U.S. cellphone users sent 110 billion messages, a tenfold increase in just the last three years according to data from the CTIA, the cellphone industry's trade group. So next time you feel the urge to send a text message while you are driving, don't do it. Nothing you can say is worth increasing the chance of being involved in an accident by 23 times.
source:
NYTIMES