Motorola Moto X gets the teardown treatment and shows off the X8 SoC
7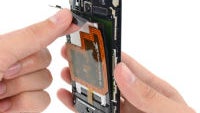 Today was the first day of sale for the Motorola Moto X, so that obviously means that iFixit had to tear it apart to see how it all fits together. The good news is that the Moto X scores well on iFixit's reparability scale, but there weren't any real surprises hidden inside Motorola's new flagship device. Everything is as we expected it to be.
It seems that the Moto X is a pretty easy device to repair, the only real negative mentioned is that Motorola used some pretty sticky adhesive to secure the back plate, but that will really just slow you down if you're determined. The X8 SoC is on display inside, nicely bordered by the NFC antenna so the impressive new chip is framed.
The entire device is very modular and easy to assemble and disassemble. We wouldn't be surprised if this was a conscious choice to make sure Motorola could build the devices fast enough. Many of the components, including the camera flash and headphone jack are modular and easy to replace.
The back side of the display assembly has a bit of foam to cushion it. And it is interesting to see that the colors labeled as "woven black" and "woven white" are actually
woven
as in you can see through the material when you are looking at the back plate by itself.
Otherwise, there's nothing surprising inside the Moto X. But, it's always nice to know that you can fix it fairly easily, if you want.