Galaxy S5 might sport a 5"+ 2560x1440 AMOLED screen, leaked Samsung Display CEO presentation hints
70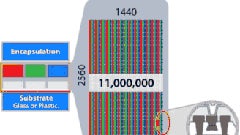 We heard through the grapevine during
Samsung's Analyst Day
not long ago that the company might be releasing a 560ppi mobile display next year, which we immediately thought would be a perfect fit for a flagship phone like the
Galaxy S5 or even an eventual Note 4
.
There were no reporters allowed during the Analyst Day presentations given by Samsung head honchos, so most of the rumors what's in the pipeline were hearsay from Korean analysts that were present at the events. Now, however, we have the whole presentation of Samsung Display's CEO Kinam Kim leaking out, and on slide number 11 below 2014 is clearly marked as the year Samsung will reach 560ppi phone displays, and of the Super AMOLED variety at that.
Next up in the lofty goals is making such displays with plastic substrate, like on the
Galaxy Round
, but mass producing such panels is probably some time off still. Nevertheless, a 560ppi AMOLED screen on the Galaxy S5 would be pretty amazing, as it would mean resolutions in the 2600x1440 pixels ballpark at a 5.3" size. That's roughly the so-called WQHD resolution that you see mentioned in one of the slides as ready for next year, whose standard is exactly a 2560x1440 resolution, or 3.7 million pixels at your disposal on a small phone screen, pretty crazy.
Not that we have any problem with the current Full HD 1080p screens, but if the new panels also sport some fancy new energy-saving tech like during the jump from 720p to 1080p screens, we are all for it. In any case, this is just speculation at this point, though we doubt that if Samsung has heard plans for 2600x1440ppi smartphone screens from competitors, it will leave next year's flagships to chance.
Meanwhile, Samsung has some great plans for bendable, foldable, and even stretchable displays going forward, on anything from wearables, through cars, to fashion even. The whole presentation can be found at the source link, but take a look below at the handpicked slides from it, which refer to mobile displays, and marvel at what's ahead. In any case, it looks like Vivo's
Xplay 3S phone
might hit the market with a WQHD display first, but it won't be the only one for long.
Recommended Stories