Qualcomm snubs Apple while revealing a list of industry firsts it takes credit for with Android
27
Qualcomm took some time today to pat itself on the back, and at the same time take a shot at Apple. In a blog post, the chip maker made a list of smartphone firsts that took place on Android phones thanks to Qualcomm technology. The specific feature is listed followed by the Android model it was first seen on. For example, under Iris Authentication/Facial Recognition, the
Samsung Galaxy S8
is listed. For Bezel-less display, the
Xiaomi Mi MIX
is credited, and the
Sony Xperia Z4
is named for the first water resistant touch screen.
Some mistakes made by Qualcomm in an earlier version of the list have been changed. Originally, the
HTC One M7
was listed as having the first dual camera system and it actually was the HTC One M8 that was the first with a dual camera setup.
Interestingly enough, Qualcomm made sure not to mention Apple, the iPhone, or iOS. Instead, in a sentence from its blog post Qualcomm wrote "Inventions from Qualcomm lay the foundation for so many technologies and experiences we value in our smartphones today — on Android and
other platforms
(emphasis ours). As you might know, Apple and manufacturers who build the iPhone and iPad are in the middle of a legal battle against Qualcomm. They are accusing the chip maker of asking for royalties that are too high for Standard Essential Patents. These are patents that smartphone manufacturers are required to license in order to build their devices. Because of this, the company that owns the patent, in this case Qualcomm, is required to collect royalties that are fair, reasonable and non-discriminatory.
Contract manufacturers that produce the iPhone and iPad, like Compal Electronics Inc., Foxconn Technology Group, Pegatron Corp. and Wistron Corp., are withholding royalty payments to Qualcomm, claiming that they are too high considering that they are Standard Essential Patents. While Qualcomm is suing for its royalties,
a federal judge refused to toss a counter-suit filed by the four manufacturers against the San Diego based chip maker
.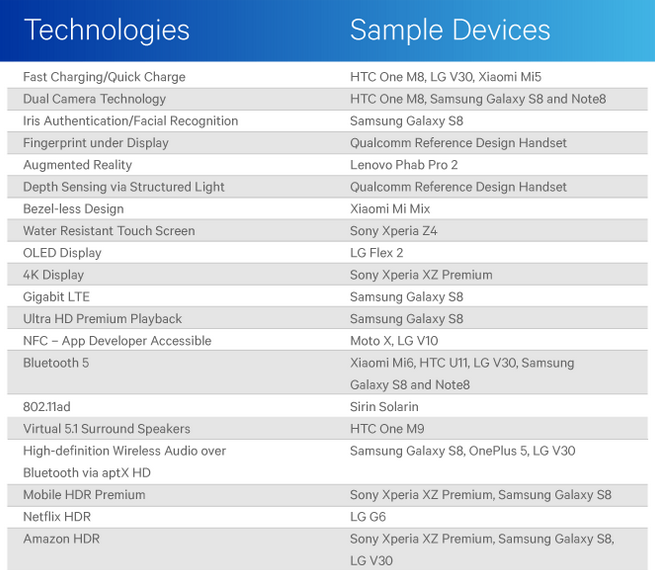 Qualcomm pats itself on the back while taking a shot at Apple
source:
Qualcomm
via
TheVerge