Qualcomm rebrands Snapdragon chips, new names to match chip generations, get rid of confusion
11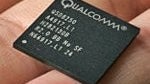 You know the Snapdragon MSM8255?
Right, neither do we, at least we wouldn't be 100% sure which one was it until we double and triple-checked it and yet it's a pretty common Qualcomm chip (if not the most common one). If you do know it, though, you've definitely deserved our deepest respect, geek to geek, or you work at Qualcomm. In either case, even you'd admit that the fancy MSM8255 model name in question does more to confuse rather than make life easier for the common smartphone buyer. And easier is what we all like, even Qualcomm, which has announced that it will change the naming of its SoCs to simplify matters – the company's new system will rename chips to the plain and
simple S1, S2, S3 and S4
. The digits following the S for Snapdragon represent the generation of the chip. Oh, the joy and relief.
First-gen silicon
, or S1, is the oldest, manufactured by 65nm technology and featuring Adreno 200 GPU, but that doesn't tell you much. It's the devices that give a better idea about its performance and it was most recently featured on the first wave of Windows Phone handsets as well as for instance the HTC Droid Incredible.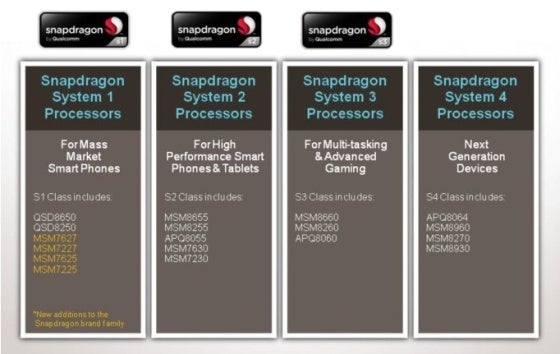 The second-gen chips,
S2
, were produced using 45nm technology and got a bump in the graphics department with the Adreno 205 graphical processor. Those chips power some of the most common devices nowadays including the HTC ThunderBolt, LG Revolution, T-Mobile G2 and Sony Ericsson's new Xperia models.
Finally, the
third generation S3
is when dual-cores started appearing along with Adreno 220 graphics. The chips use the same 45nm technology, but with dual cores the boost in power is noticeable. Signature devices include the HTC Sensation, HTC EVO 3D and HP TouchPad when it comes to tablets.
S4 is the
future
, shining bright with 1.6GHz to 2.5GHz multi-core chips (dual to quad) expected next year. Simple enough? We couldn't imagine it simpler than that. Now, if it could only bring Qualcomm's quad-core chips as fast as Nvidia's Kal-El...
source: Qualcomm