Qualcomm Snapdragon 820 benchmarks surface again, clashes with the A9 in iPhone 6s Plus
74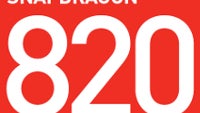 Qualcomm's Snapdragon 820 is probably among the most anticipated pieces of smartphone tech this year. Not only is it the SoC that is expected to go into most flagship handsets, it also bears the mission of removing the blotch of bad rep that the previous model — the Snapdragon 810 — smeared on top of Qualcomm's resume with its
overheating issues
.
The good news is that Qualcomm is getting help from Samsung in constructing the new Snapdragon 820. And Samsung showed us that it knows what it's doing with its home-brewed
Exynos 7420 SoC
– the silicone, which powered the
Galaxy S6
,
Galaxy S6 edge
,
Galaxy S6 edge+
, and
Galaxy Note 5
. These phones were certainly among the top Android performers in 2015, so the tech world is hopeful that, with Sammy's assistance, the Snapdragon 820 will outdo the competitors and redeem its line's name in 2016. Thus far,
leaked AnTuTu
and
Geekbench
benchmarks show that it just may!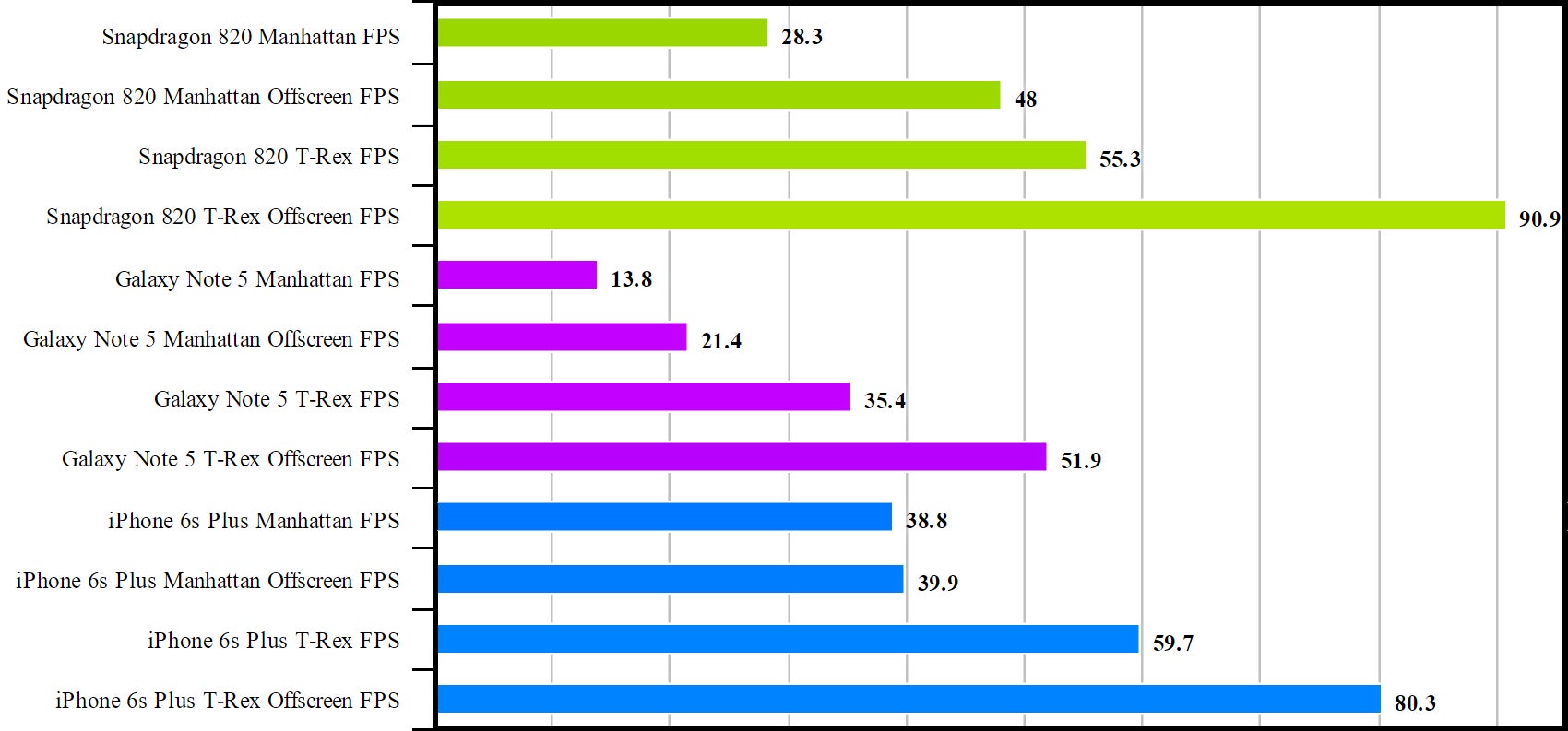 A new set benchmarks has surfaced on GFXBench's website, allegedly showing us the upcoming chip's graphics performance prowess — and it looks impressive. The supposed Snapdragon 820 device easily beats the Note 5's score on the same website, and competes with the
iPhone 6s Plus
, beating it in some of the offscreen tests, but ultimately losing to it in the onscreen ones, which shouldn't be viewed as a big disappointment, considering the amount of pixels each device is pushing.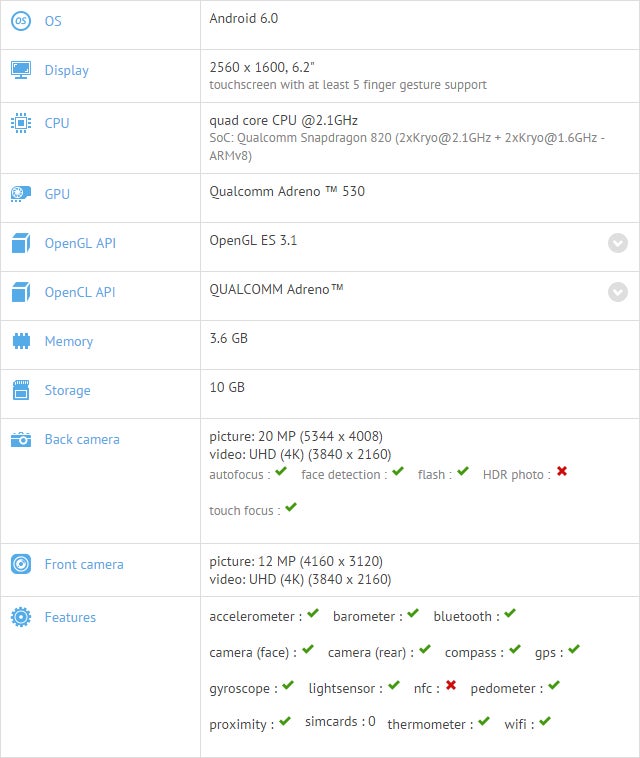 From the screenshots, you will notice that the SD820 was installed in a 6.2" smartphone with a 1600 x 2560 resolution, 4 GB of RAM, a 20 MP / 12 MP camera combo, and Android 6.0 on board. You may be wondering what device this is, but at the moment, we wouldn't read too much into it, as it could just be a test platform for the processor, not a production unit. However, do note the test device's (rather unorthodox) resolution, and compare it to the iPhone 6s Plus' 1080 x 1920. Indeed, the alleged Snapdragon has more pixels to push, but it still performed quite respectably in the tests.
The first smartphone to be powered by a Snapdragon 820 has
already been announced
. It's going to be made by a company, which is quite unknown in the west — LeTV — and the handset's name is Le Max Pro. However, it's still not out on the store shelves. An earlier rumor claimed that Samsung will be the first OEM to actually physically sell a Snapdragon 820-equipped phone, and there may still be some truth to those reports. Sammy is about to unveil its Galaxy S7 flagships in just a couple of weeks, and they will probably start shipping within 2 weeks afterwards. It would make sense if, seeing as Samsung is
heavily involved
in the Snapdragon 820 production, it has made a deal with Qualcomm to be the first manufacturer to launch a phone with the chip, effectively slowing down the competition a bit.