Revised Qualcomm Snapdragon 810 no longer overheats? Video of a Sony Z3+ prototype begs to differ
51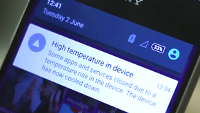 With more smartphone manufacturers turning to the Snapdragon 810 SoC, the first comments from the peanut gallery are usually along the lines of "
Boy, is that phone going to be hot
," or "
The only thing that phone will be good for is playing hot potato
." But some manufacturers have been working on ways to prevent the Snapdragon 810 from overheating without resorting to throttling the chip's performance. The latter is what HTC was forced to do with the
HTC One M9
.
While Xiaomi came up with its own fix for the problem when it used the chip on the
Xiaomi Mi Note Pro
, Sony is using the Snapdragon 810 v. 2.1 for the
Sony Xperia Z3+
and
Sony Xperia Z4 Tablet
. Reportedly, this version of the Snapdragon 810 SoC does a better job at managing the heat generated by the chip. The revised version of the chip was discovered in the source code for the Xperia Z3+ and Xperia Z4 Tablet, published by Sony. The code refers to the MSM8994-v2.1. For those unaware, the MSM8994 is the model number for the Snapdragon 810.
The Snapdragon 810 is also expected to be powering the Microsoft Lumia 940XL and
the third-generation Motorola Moto X
, as well as other handsets. We have to assume that the new version of the chip will be employed on these models or otherwise the manufacturers would worry about the prospects of consumers complaining about having to hold a hot device.
If the revised version of the Snapdragon 810 SoC doesn't overheat, Qualcomm is hoping that word spreads just as fast as the original reports about the overheating did. However, a video has surfaced showing that overheating issues are still present on the Sony Xperia Z3+. A couple of warnings pop up relating to high temperatures and you can see this for yourself by clicking on the video below. Keep in mind that the Xperia Z3+ in the video is a prototype using pre-release software which could be changed by the time the phone is released.
source:
Btekt
via
XpriaBlog
,
WMPoweruser