Letv Le Max Pro officially announced: the world's first Snapdragon 820-powered smartphone, and the first with Sense ID
17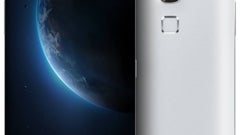 Not long after
Qualcomm confirmed
that the
Letv Le Max Pro
would be the world's first Snapdragon 820-powered smartphone, we now have more details about the device, plus official images of it.
While the Le Max Pro is indeed the very first handset to use Qualcomm's high-end Snapdragon 820 processor (see
technical details here
), there is no word on exactly when it's going to be released. But we do know that Letv plans to start selling it sometime "in the first half" of this year.
The Letv Le Max Pro is also the world's first handset to come with Qualcomm's Snapdragon
Sense ID
- the ultrasonic-based fingerprint biometric authentication technology that Qualcomm announced last year. According to Qualcomm, Sense ID is more reliable, and more secure than current capacitive-based fingerprint technologies (used by Apple, Samsung, and others) - that's because ultrasonic scans can provide highly detailed 3D maps of users' fingers. The fingeprint sensor is placed on the back of the Le Max Pro, under 400 µm (micrometers) of metal. Due to the ultrasonic nature of the sensor, the metal cover won't interact with its functionality.
Letv's newest smartphone features super-fast LTE, and super-fast multi-band WiFi 802.11ad wireless connectivity. Moreover, the device supports Qualcomm Quick Charge 2.0, which means that users will be able to charge its battery from 0% to 60% in just 30 minutes.
Letv has yet to reveal a price and a detailed specs list for the Le Max Pro, but we hope we'll be able to find out more about the handset at CES 2016. Rumors have it that the device runs Android Marshmallow out of the box, and is pretty big, thanks to a 6.33-inch Quad HD (1440 x 2440 pixels) display.
Right now, Letv is only selling accessories (and a TV) in the US, and there's no word on when it's going to start commercializing smartphones here. But we'll let you know as soon as we find out.
sources:
Press release
,
Qualcomm
Recommended Stories